8 dead as protest against ministers' visit turns violent in UP's Lakhimpur: Key points
3 min read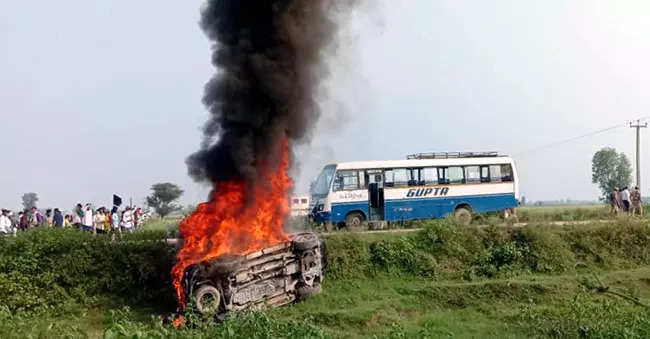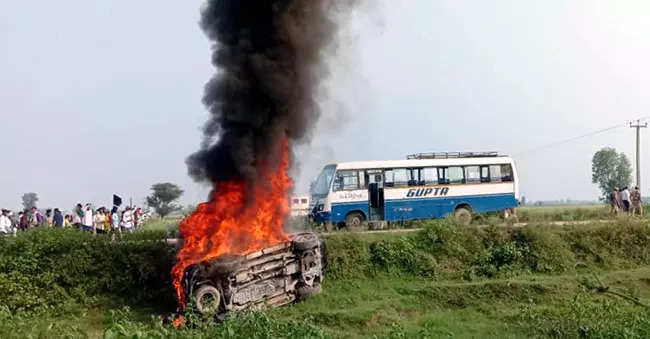 NEW DELHI: At least six people were killed in Uttar Pradesh's Lakhimpur Kheri on Sunday as violence broke out during a farmers' protest against deputy chief minister Keshav Prasad Maurya and Union minister Ajay Kumar Mishra's visit.
The violence flared up when two SUVs allegedly ploughed into a group of protesters demonstrating against Maurya's visit.
Here are the top developments …
Protesters run over by SUVs

Two SUVs allegedly ran over over a group of anti-farm law protesters, who were demonstrating against the visit of Maurya at the Tikonia-Banbirpur road.
Unconfirmed reports claimed a number of farmers were seriously injured in the incident.
Angry protesters allegedly forced the two vehicles to stop and set them on fire. They also allegedly thrashed some passengers.
The farmer leaders alleged that Union minister of state for home Ajay Kumar Mishra's son was in one of the SUVs.
The Samyukta Kisan Morcha, an umbrella body of farmers, claimed that one of the farmers was shot dead by Mishra's son.
Mishra, however, denied the charge and said his son was not present at the spot.
He added that three BJP members and a driver were beaten to death by some "elements" in the present.
Several journalists were also reported to have sustained injuries in the incident.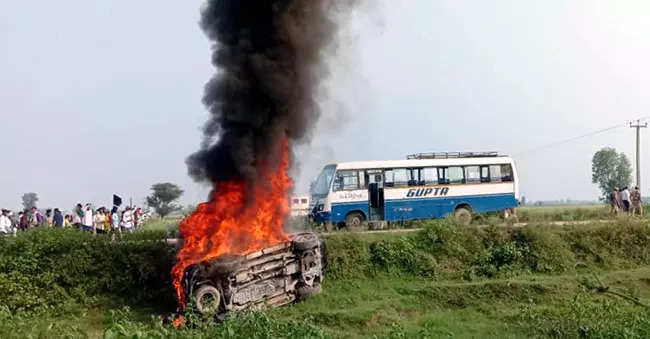 Farmers to stage stir outside DM offices
The Samyukta Kisan Morcha has called for a protest outside the offices of district magistrates and divisional commissioners across the country on Monday over the incident. t
They also demanded a probe into the incident by a sitting judge of the Supreme Court and not by the Uttar Pradesh administration.
"To express our agitation against Sunday's incident, the SKM calls for a protest outside the offices of district magistrates and divisional commissioners across the country between 10 am and 1 pm," farmer leader Darshan Pal Singh said.
"We demand that Union Minister of State for Home and Khiri MP Ajay Kumar Mishra be immediately dismissed from his post. A case under section 302 (punishment for murder) of the IPC should be registered against the minister's son and other goons," the morcha said.
They claimed that at least four farmers were killed in the incident and appealed to the protesters to maintain calm.
BKU's Rakesh Tikait leaves for Lakhimpur Kheri
Bharatiya Kisan Union leader Rakesh Tikait on Sunday left for Lakhimpur Kheri along with his several supporters amid reports of violence.
While leaving Ghazipur on the Delhi-Ghaziabad border for Lakhimpur Kheri, Tikait, the BKU's national spokesperson, claimed that "several farmers" are feared dead during the violence in which two vehicles were also allegedly set on fire.
There was, however, no official word yet by the Lakhimpur Kheri administration or the police on deaths or injuries during the incident in which two SUVs allegedly ran over protestors and firing also took place.
"The farmers in Lakhimpur were returning after the protest when they were attacked. Some of them were run over, while the fire was also opened on them. According to the information we have so far, several people have died in the incident," Tikait said in a purported video message he posted on Twitter.
Congress slams BJP, demands judicial probe
Meanwhile, the Congress hit out at the BJP over the violence and demanded a judicial probe into the incident and strict action against the guilty.
Rahul Gandhi said those who remain silent even after Sunday's incident in Lakhimpur Kheri are already dead and underlined that the sacrifice of farmers will not go in vain.
Violence broke out after two SUVs allegedly ran over a group of anti-farm law protesters who were demonstrating against the visit of Uttar Pradesh Deputy Chief Minister Keshav Prasad Maurya at Tikonia-Banbirpur road in Lakhimpur Kheri on Sunday
"Those who remain silent even after seeing this inhuman massacre are already dead. But we will not let this sacrifice go in vain — 'Long live Kisan Satyagraha'," he said in a tweet in Hindi using the hashtag 'Farmers Protest'.
Congress general secretary Priyanka Gandhi Vadra sought to know whether farmers had the right to live in this country. She will also visit Lakhimpur on Monday.
Congress spokesperson Supriya Shrinate said the incident is very unfortunate and demanded a judicial probe into it.
(With inputs from agencies)