Cops detain 430 overground workers after Jammu and Kashmir killings
4 min read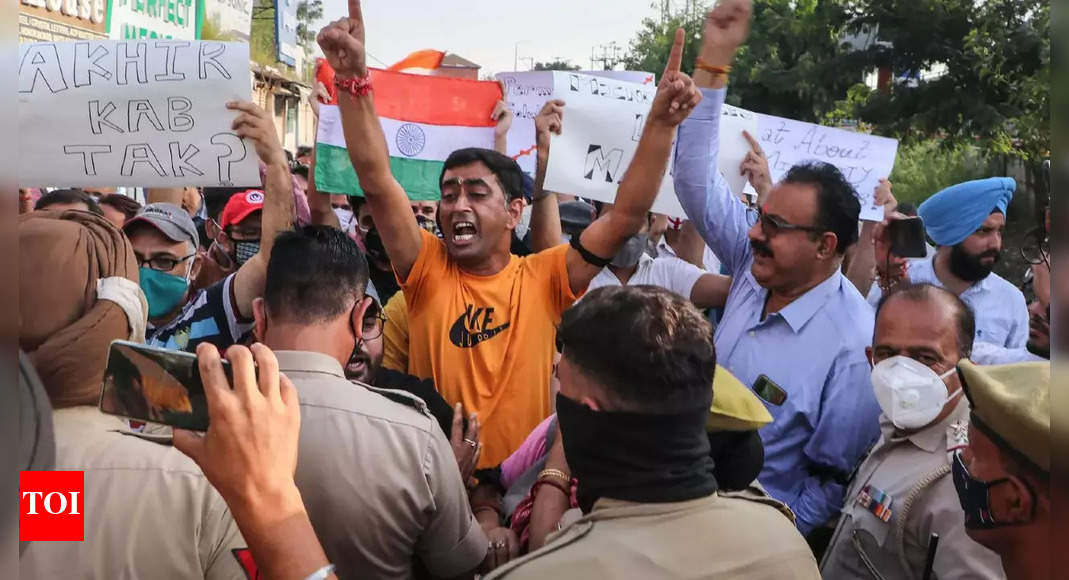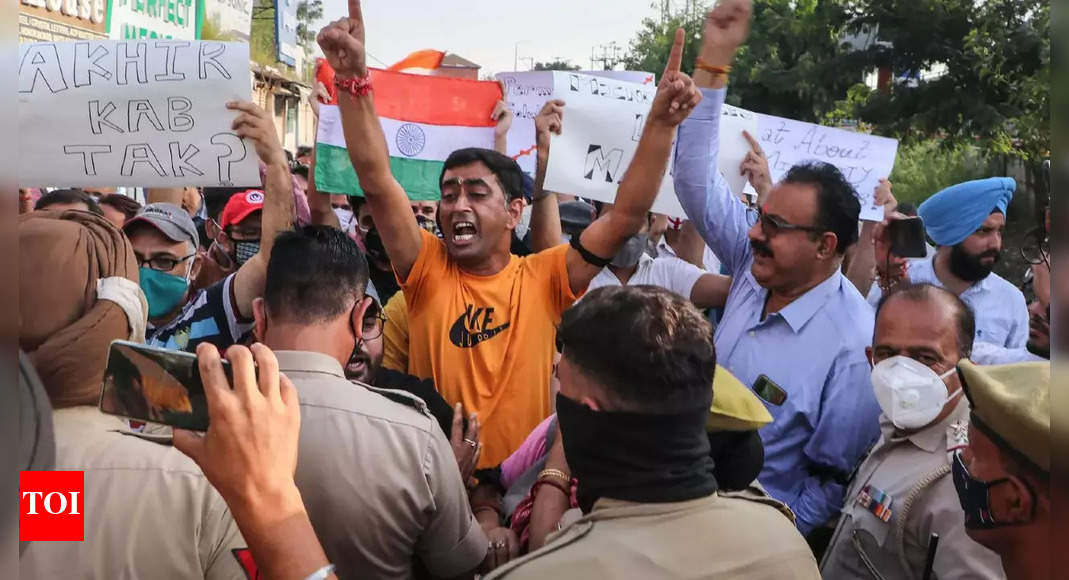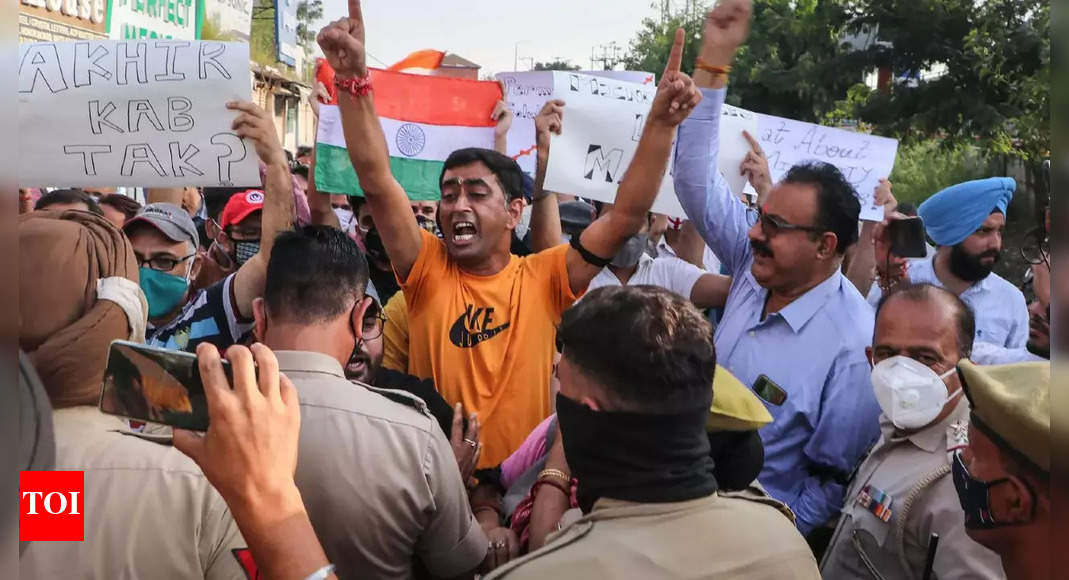 NEW DELHI/SRINAGAR: In a major crackdown on the terror ecosystem in Jammu and Kashmir days after a string of civilian killings, the J&K police have detained more than 430 alleged overground workers (OGWs) associated with different terrorist outfits such as Lashkar-e-Taiba and Jaish-e-Mohammed etc and are questioning them on their terror links and alleged supporting role in the recent attacks. The agency also conducted searches at eight locations in Srinagar and Anantnag districts and arrested three persons in another case.
In the targeted killings case, the suspected OGWs were picked up from across the Valley, prominently Srinagar, Anantnag, Kulgam and Shopian. One of those detained is a prominent drugs supplier based in Srinagar. As per a preliminary investigation, the local terrorists behind the killings were mostly neo-recruits or 'hybrid' terrorists lured by handlers, including from Pakistan, with drugs or money to carry out one-off attacks with pistols supplied by the latter. Incidentally, many of the OGWs picked up by J&K police appear to be addicts, said a source.
Some reports said the agency arrested two operatives of the The Resistance Front (TRF) identified as Tawseef Ahmed Wani of Bangdara village in Baramulla and Faiz Ahmed Khan of Panzat in Anantnag district and more arrests may follow. The reports suggested 40 others had been summoned by the NIA for questioning, as part of the investigation into the killing of a woman school principal from the Kashmiri Sikh community and her Kashmiri Pandit colleague at a boys' higher secondary school in Srinagar's Eidgah locality last Thursday.
The NIA also conducted searches in a ISIS 'Voice of Hind case' at eight locations in Srinagar and Anantnag districts and arrested three persons. The case relates to ISIS conspiracy to radicalise and recruit impressionable Muslim youth in India through online propaganda to wage jihad against the Indian state, the agency said.
Those detained in connection with the targeted killings include youths previously involved in stone-pelting on security forces and Jamiat-e-Islami and Tehreek-e-Hurriyat activists. They are suspected of either having links with the terrorists or trying to foment communal tension in the Valley.
The agencies have also identified the voice of the terrorist who figured in a video clip being circulated, where a new outfit called Geelani Force is claiming responsibility for the civilian killings and warning The Resistance Front not to take credit for them. "The voice is of a known Lashkar terror recruit based in Kulgam, which just proves it is essentially LeT behind the targeted killings, though masquerading as either TRF and now Geelani Force to maintain plausible deniability and project the terror acts as "indigenous" rebellion," said an officer.
A call on arrest of the detained OGWs will be taken based on facts that come out during the course of their questioning. They are likely to be sent to jails outside the Valley, possibly in Jammu or even another state.
As part of the counter-terror offensive, which has been stepped up after the killing of seven civilians this month, the agencies have also been able to identify two Pakistani LeT terrorists who delivered the pistols to the local Kashmiris behind the targeted killings. One of the Pakistani terrorists may have infiltrated recently, said a source.
The arrests of the OGWs came on a day that NIA conducted searches at seven locations across Kulgam, Srinagar and Baramulla districts of J&K and arrested two operatives of The Resistance Front in a LeT-TRF conspiracy case dating back to June 2021. Sources said around 10 more arrests may follow. The NIA case relates to the recovery of an IED from an LeT terrorist in Bathindi, Jammu, for indulging in terrorist acts in J&K. Earlier, three LeT terrorists were arrested in the case.
Investigation has revealed that Pak-based LeT handlers and aides based in J&K had conspired to cause extensive terror activities for harming the public. They had planned that responsibility for the terrorist acts so committed would be taken by TRF to maintain deniability.
On Friday, one LeT terrorist said to have been involved in the fatal shooting of Mohammad Shafi Dar on October 2 in Batamaloo was killed in an encounter. General officer commanding of the Army's 15 Corps, D P Pandey, on Sunday said the killings were part of an agenda to create a rift between different religious communities of J&K. "Over the past year, positive changes have been seen in J&K. These attacks are aimed to induce violence and undo those changes." He said the people of the Valley would "expose the faces of those who are behind the recent civilian killings".
Strongly condemning the recent attacks on civilians, J&K lieutenant-governor Manoj Sinha had on Friday told TOI that the trend of killing 'soft and easy' targets shall be dealt with an iron hand, with a revised strategy focused on dismantling the entire terror ecosystem. "We have posted the best police officers across J&K. A strategy review meeting was held on Wednesday and the revised action-plan has been rolled out. Counter-terror action is under way…. We are confident about containing these 'soft-target' attacks. We shall not buy peace but instead establish peace. Terror ecosystem has to be dismantled whether here or elsewhere," Sinha had said.