Covid-19: Consider booster dose for 40-plus age group, say genome scientists
3 min read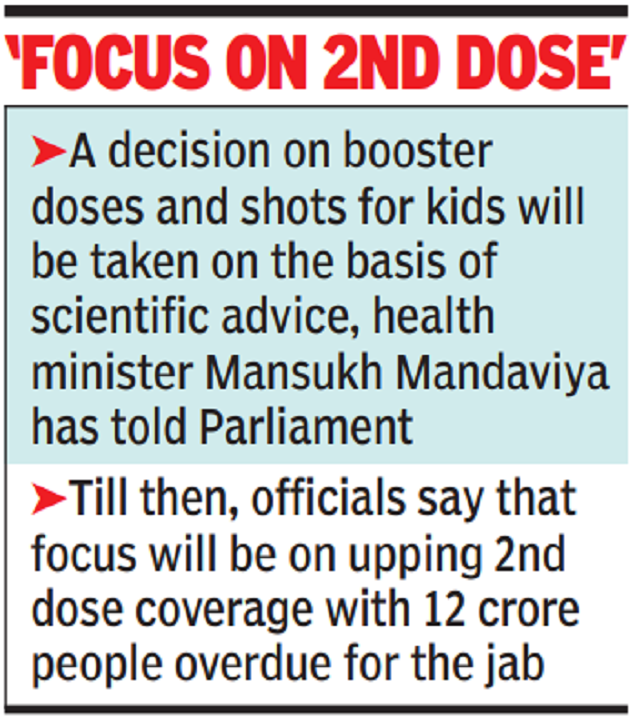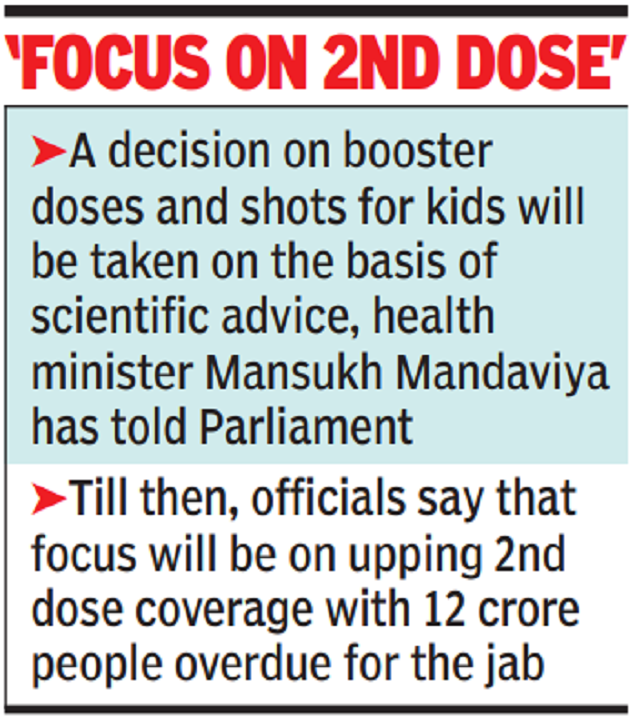 NEW DELHI: The Indian SARS-CoV-2 Genomics Consortium (INSACOG ) has suggested a booster dose of anti-Covid vaccines can be considered for the 40-plus age group, prioritising those at high-risk or high-exposure as low levels of neutralising antibodies from existing vaccines may not be sufficient to neutralise the new variant- Omicron.
The recommendations are part of the Consortium's weekly bulletin dated November 29.
In its November 30 edition, TOI reported that the National Technical Advisory Group on Immunisation (NTAGI) is considering recommending an additional dose to those who are immunocompromised or the elderly.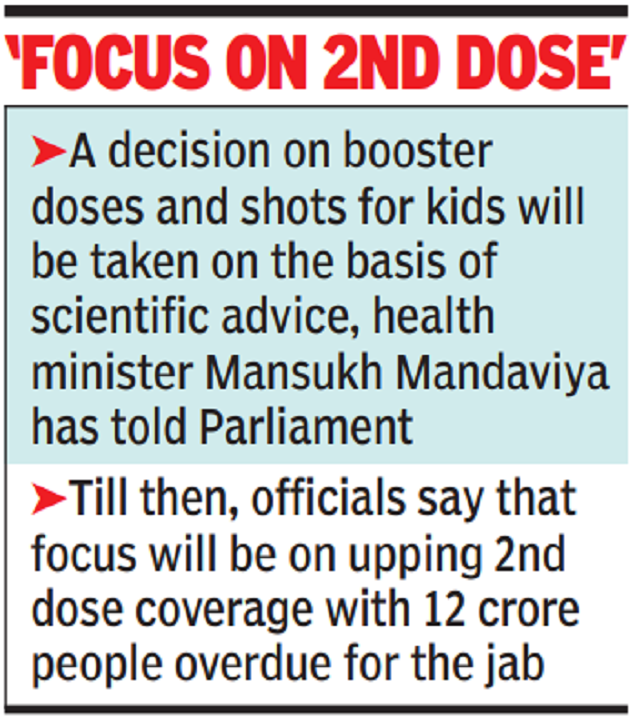 Speaking in Parliament on Friday, Health Minister Mansukh Mandaviya said a decision on booster doses and shots for kids will be taken on scientific advice. The decision on boosters, officials said, will be based on evidence of waning immunity — whether data warrants such a decision. Till then the focus will be on upping second dose coverage with 12 crore people overdue for the jab, which INSACOG has also underlined.
NTAGI will further deliberate on the issue in a meeting next week and submit its proposal to the government.
"Vaccination of all remaining unvaccinated at-risk people and consideration of a booster dose for those above 40 years of age, first targeting the most high-risk / high-exposure may be considered, since low levels of neutralising antibodies from current vaccines are unlikely to be sufficient to neutralise Omicron, although risk of severe disease is still likely to be reduced," INSACOG said in its bulletin.
INSACOG is a network of national testing labs set up by the government to monitor genomic variations in SARS-COV2.
Demand of booster dose has been debated amid concerns over the new variant, which is expected to be far more infectious than the previous ones.
The health ministry also maintains that while there is no evidence to suggest that existing vaccines do not work on Omicron, some of the mutations reported on the spike gene may decrease the efficacy of existing shots.
Moreover, possible waning immunity in some people as well as with some particular vaccines may make them vulnerable to the new variant, which is seen as much more infectious.
The World Health Organisation will also deliberate on the issue of booster dose on December 7 and may come up with a guidance.
The government here maintains that it is keeping a "close watch" on the emerging scientific evidence and a decision will be taken based on expert advice.
Besides, the government is also closely tracking the data to analyse trends such as severity of infection among new Covid-19 cases, especially those who are getting hospitalised even after vaccination, and deaths from the infection. "This will be crucial to ascertain the need for a booster dose in the country and if at all then to whom and when," said an official.
The INSACOG also said that genomic surveillance will be critical for early detection of the presence of this variant, to enable necessary public health measures.
It also recommended monitoring travel to and from the known affected areas, and contact-tracing of Covid-19 cases with an epidemiological link to the affected areas has been implemented along with increased testing.