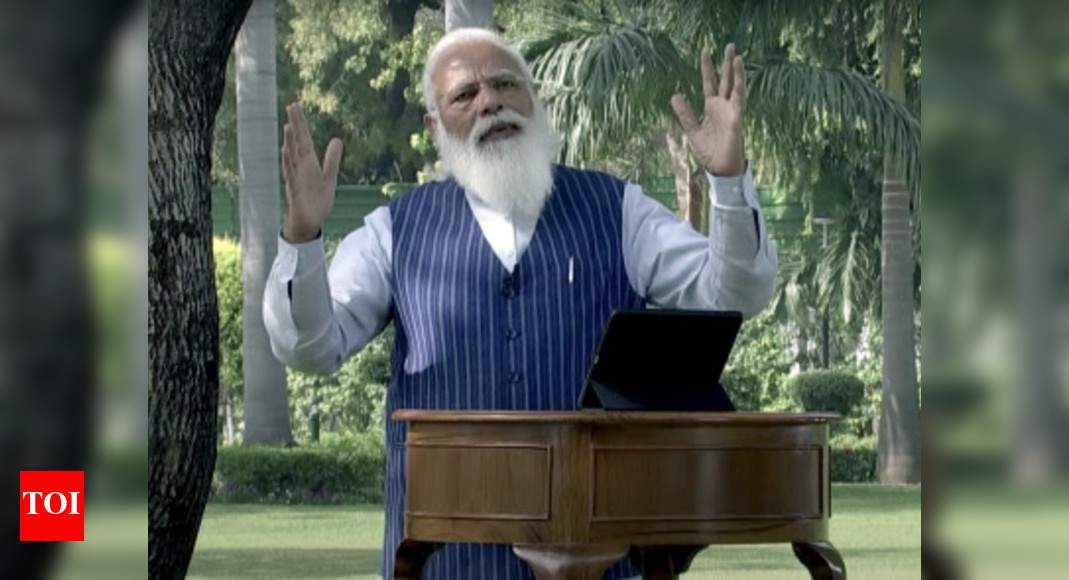 NEW DELHI: Ruing the missed opportunity of meeting students in person ahead of their examinations, Prime Minister Narendra Modi told them that they may have lost a year due to the coronavirus pandemic but they have learnt to value what is essential in their lives.
Speaking at the fourth edition of the annual 'Parikasha Pe Charcha' programme virtually, the PM advised parents not to unwittingly make children "instruments" to fulfil their dreams and goals.
Replying to a question from a student from Ahmedabad on how students would remember this pandemic-hit year Modi said, "This is a lesson that many unimaginable events in life happen without any forewarning. The loss suffered by students due to Corona is huge. It won't be easy to mitigate the loss… However, if we have lost many things in this period, we have also gained a lot. We have realised the importance of people and things whom we missed during this period and learnt to appreciate their role in our lives. You realised that we should not take anyone or anything for granted, be it the physical activities in school, or our neighbourhood vegetable seller. Though Covid-19 forced us to maintain social distancing but it strengthened families' emotional bonding," he said.
The Prime Minister said that students sometimes become over conscious regarding exams and asked them to take them as a small destination in their long lives. "If external pressure is not created, then students will not feel pressure of exams and their confidence will also grow," he said.
Calling free-time a treasure, without which "life will be like a robot", the PM said that one should involve in activities which increase curiosity and also express individuality.
Modi summed up the interaction with two tasks to the students on the occasion of 'Amrit Mahotsav', the celebration of the 75th year of Independence. After finishing their exams, he asked students to list things one uses at home in two categories – ones manufactured in India and those abroad. The other task was to find out, 75 such events or individuals related to the freedom struggle from their respective states, write about them and make it a year-long project.