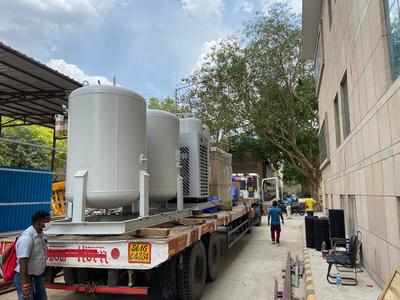 New Delhi: Two of the five medical oxygen plants to be set up in and around Delhi by DRDO and its industrial partners are now being installed at the AIIMS Trauma Centre and RML Hospital.
The other plants at the Safdarjung Hospital, Lady Hardinge Medical College and AIIMS, Jhajjar (Haryana) will also be set up this week. "These medical oxygen plants (MOPs) are designed for a flow rate of 1,000 litres per minute (LPM). The system can cater to 190 patients at a flow rate of 5 LPM and charge 195 cylinders per day," said a DRDO official on Tuesday.
The five MOPs are part of the overall plan to establish 500 such plants at hospitals in different parts of the country within the next three months from the allocations made by the PM Cares Fund, as was announced by defence minister Rajnath Singh earlier.
The equipment for the two plants at AIIMS and RML, which has been supplied by the Coimbatore-based Trident Pneumatics Pvt Ltd, reached the Capital on Tuesday.
The MOP technology, which was developed by DRDO for on-board oxygen generation for the indigenous Tejas fighter, has been transferred to Trident Pneumatics and the Bengaluru-based Tata Advanced Systems Limited.
While Trident Pneumatics has been given an order for 48 plants, Tata Advanced Systems is to manufacture 332 plants. "The delivery schedule is being monitored very closely to ensure the plants are ready in time. Sites are being prepared at the hospitals in parallel," said the official.
"These plants will overcome the logistical issues of oxygen transportation and help Covid-19 patients in emergency. CSIR has also ordered 120 MOPs through its industries," he added.
The MOP technology is capable of generating oxygen with 93±3% concentration, which can be directly supplied to hospital beds or can be used to fill medical oxygen cylinders. "It utilizes pressure swing adsorption (PSA) technique and molecular sieve (Zeolite) technology to generate oxygen directly from atmospheric air," said the official.
"MOPs have already been installed at some of the Army sites in the north-east and Ladakh. The plant complies with international standards like ISO 1008, European, US and Indian pharmacopeia," he said.
FacebookTwitterLinkedinEMail