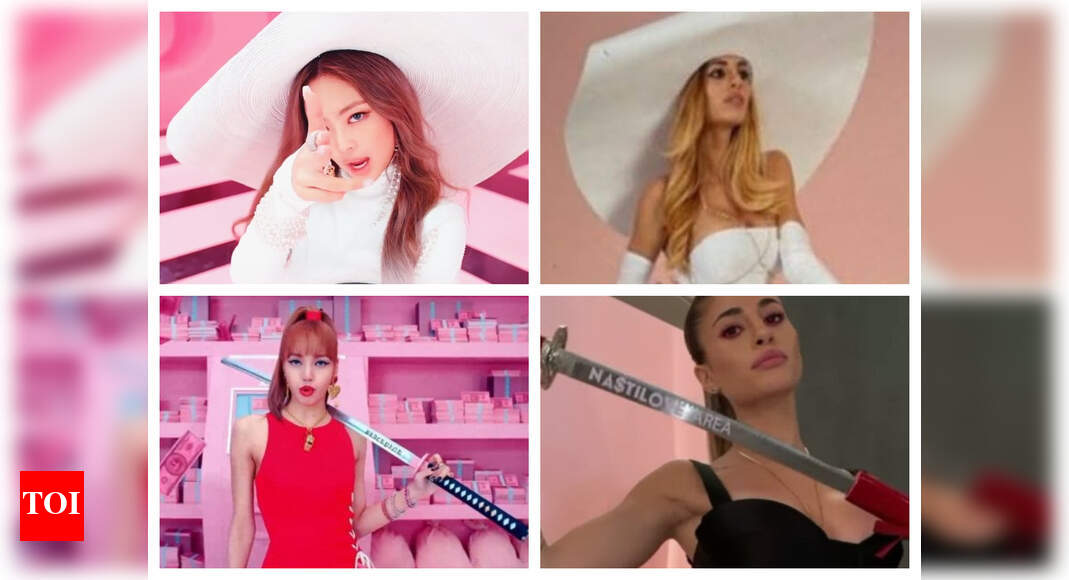 An Italian influencer, Chiari Nasti and her new brand has been brought under the scanner after she was accused of allegedly plagiarizing BLACKPINK's 'DDU-DU-DDU-DU' music video.
Nasti, came under fire when fans of the K-Pop girl band noticed the undeniable similarities her new campaign had with the music video. BLINKS took to social media to share some BTS clips of Nasti's upcoming campaign and compared them with stills from the music video that has clocked over 1.5 billion streams on YouTube.
[embedded content]
Some of the alleged plagiarized material include similar costumes, settings and props. While one scene seems to be a rip-off of Jennie's clip in the song carrying several bags while wearing an all-white ensemble with a wide-brimmed hat, another sees Nasti with a sword, much like Lisa's scene in the MV.
Loyal BLINKs have been taking to social media to alter YG Entertainment with tweets pointing out all the similarities between the two projects.

"ti lascio copiare però mi raccomando cambia qualcosa ancora poi se ne accorgono"meanwhile, chiara nasti: https://t.co/sKBH2u1LwL

— fede ☾ in your area (@fedexnightmare) 1618408958000
✨Annyeonghaseyo Chiara Nasti imnida✨ https://t.co/NKJhXxbk66

— loghug (@httpgi4da) 1618413249000
Perché nessuno parla di Chiara Nasti che copia spudoratamente le Blackpink? https://t.co/0Lv1EwDmMS

— (@Gindipendente) 1618418863000
Il nuovo progetto di Chiara Nasti mi ricorda qualcosa che però adesso non mi sovviene … https://t.co/IDAqtICY2v

— i'm MATTEO, i'm OK (@matteo_b22) 1618394665000
chiara nasti sai quanti cereali sottomarca ti devi ancora mangiare!? https://t.co/EVtV90XB0t

— jenniein your area (@jennievcheeks) 1618403469000
As of now, neither YG Entertainment nor Chiari Nasti's company has commented on the subject.