Kangana slams Instagram for unprofessionalism
2 min read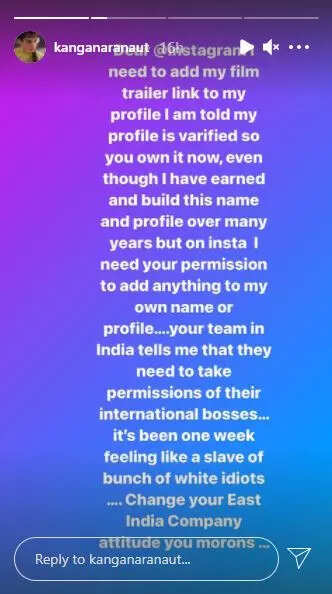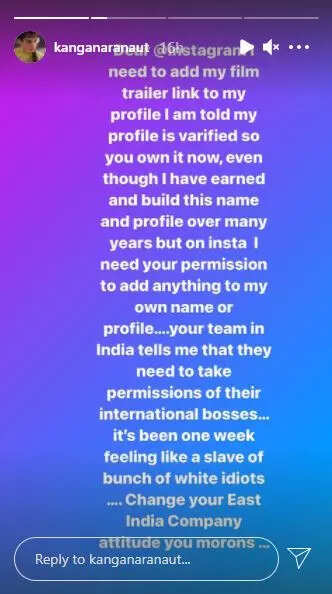 Kangana Ranaut is currently busy promoting her upcoming film 'Thalaivii'. Her film is all set to release in theatres on September 10. Recently, the actress revealed that she is unable to share the 'Thalaivii' trailer link to her profile.
Kangana took to her Instagram story and slammed the picture-sharing app for 'unprofessionalism'. She wrote, "Dear @instagram I need to add my film trailer link to my profile I am told my profile is verified so you own it now, even though I have earned and build this name and profile over many years but on insta I need your permission to add anything to my own name or profile. Your team in India tells me that they need to take permissions of their international bosses… it's been one week feeling like a slave of bunch of white idiots….Change your East India Company attitude."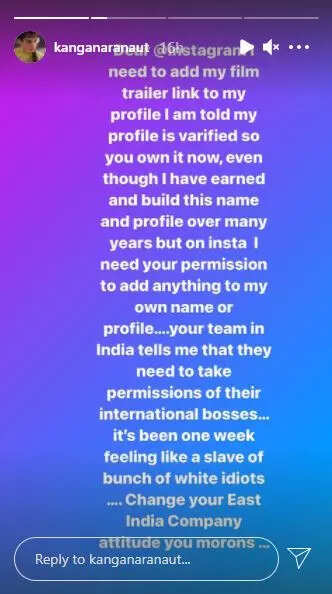 She also went on to reveal that the edit section on the account is locked after she added 'Thalaivii' to her name. Kangana further wrote, "Since when I applied to add Thalaivi to my name to promote my film, my account's edit section is locked and is waiting to get approved by Instagram. Now I can't even add my trailer to my account in the website section. Such unprofessionalism from @instagram is unacceptable."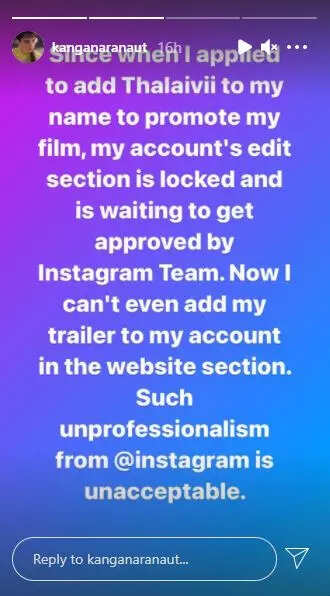 Meanwhile, Kangana's Twitter account was suspended permanently for violating its policy.
Recently, Kangana announced the new release date of the film by sharing a new poster. The film was earlier supposed to release in April 2021 but due to the pandemic, the makers had to postpone it. Sharing the poster, she had written, "The story of this iconic personality deserves to be witnessed only on the BIG SCREEN! Pave way, for #Thalaivii as she is all set to make a superstar entry into the world of cinema, yet again, a place where she has always belonged! Thalaivii IN CINEMAS near you on 10th September!"

'Thalaivii' is based on the life of former Tamil Nadu chief minister J Jayalalithaa.