Kazakh president asks Russia-led bloc for military help
2 min read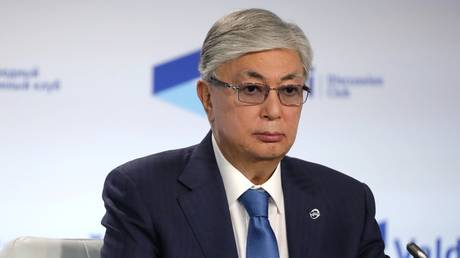 Allied military help needed to quell actions of "terrorist bands" amid violent civil unrest in Kazakhstan, the president insists
The Kazakh president has asked the Russia-led Collective Security Treaty Organization (CSTO) for help amid violent unrest gripping the nation, claiming that "terrorists" were overrunning strategic facilities across the country.
"I believe reaching out to our CSTO partners is appropriate and timely," President Kassym-Jomart Tokayev was quoted as saying by the media late on Wednesday.
The president slammed the violent protesters who have overrun government buildings and other facilities in several cities across the country. Moreover, he said an "intense firefight" between an airborne military unit and the "terrorists" had been going on outside the country's largest city, Almaty, at the time of his address. These highly organized "terrorists" had been trained abroad, Tokayev alleged.
These terrorist gangs are international, have undergone serious training abroad, and their attack on Kazakhstan can and should be viewed as an act of aggression.
Tokayev said he had already requested the CSTO nations' help in fighting the "terrorist threat," which he said was aimed at "undermining the territorial integrity" of Kazakhstan.
⚡️Kazakh President sends request for foreign troops to collective security bloc – involving six former Soviet countries including Russia – to help stem the riots – reports pic.twitter.com/h8Nh1oyieR

— RT (@RT_com) January 5, 2022
A wave of unrest has gripped Kazakhstan over the past few days, originally triggered by a sharp hike in fuel prices at the start of the new year. However, the fuel protest promptly grew political and violent, with groups of protesters attacking law enforcement agents, torching vehicles, and ransacking government buildings in multiple locations across the country.
Shortly after Tokayev's address, Almaty's authorities said in a statement that a "counter-terrorist" operation has been launched in the city, aiming to "re-establish order" and "stop acts of terrorism and banditry that threaten our wellbeing and our future."
Earlier in the day, multiple government buildings, including local administration offices and the old presidential palace, were overrun by groups of violent protesters. Footage from the scene captured the city's center overrun by large crowds, with some of the participants attacking police officers and military servicemen, and apparently stealing their firearms. Its airport was taken over as well, with demonstrators looting duty-free shops and ATMs, video clips showed.
You can share this story on social media: