Kharif holds promise amid skewed rains
2 min read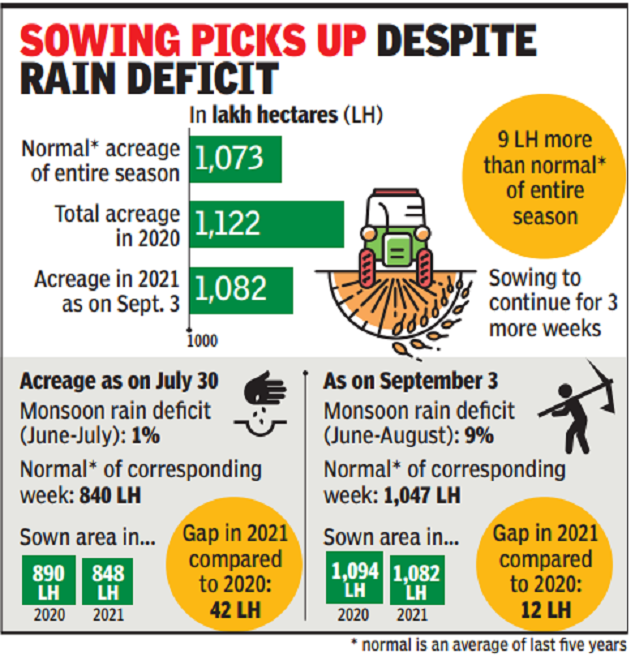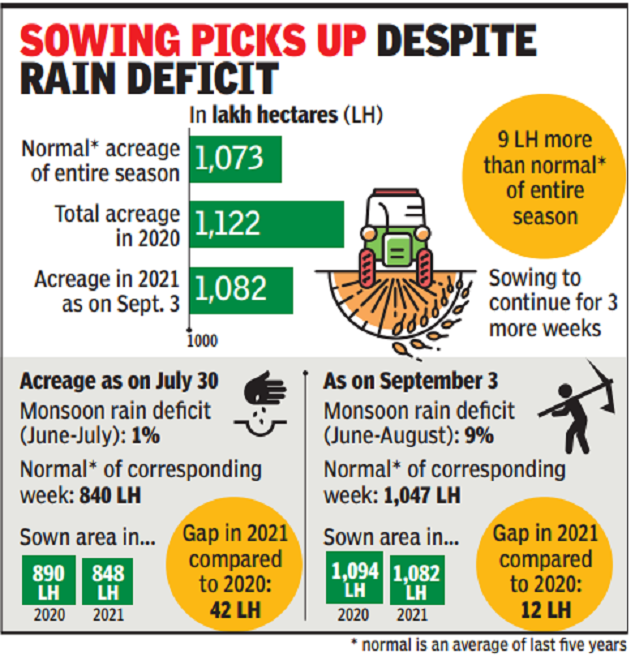 NEW DELHI: In what could signal another good crop year of foodgrain production in the country despite skewed rainfall distribution, sowing of kharif (summer sown) crops has almost caught up with the sown area of last year's corresponding period, with minimum three weeks of seasonal operation still in hand.
Latest sown area data of agriculture ministry shows that the acreage of kharif crops (paddy, pulses, oilseeds, cotton, maize and other coarse cereals), as on last Friday, for the first time this season crossed the total average acreage of last five years (1,073 lakh hectares) which is considered 'normal' acreage of the entire sowing season.
As of last Friday, the kharif acreage stood at 1,082 lakh hectares which was merely 40 lakh hectares less than the total acreage (1,122 lakh hectares) of summer sown crops in 2020. Officials tracking the sowing operation believe that this gap can easily be bridged in the next three weeks as this period is also expected to get good monsoon rains.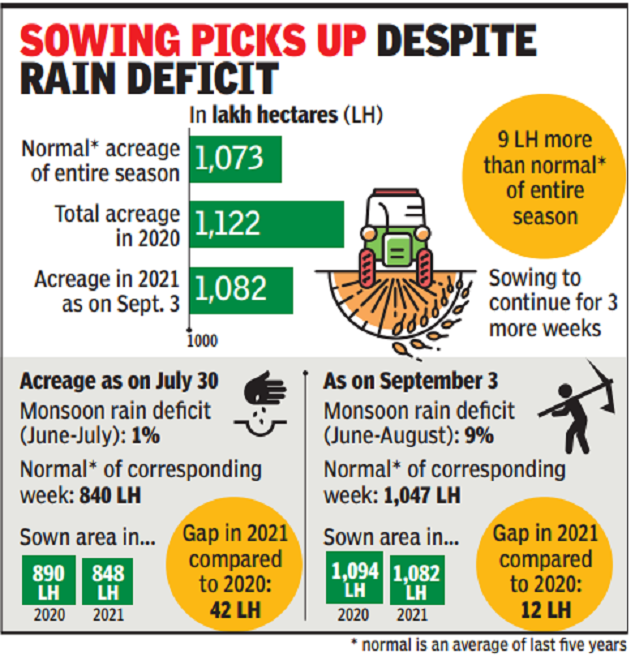 Though it had crossed the 'normal' acreage threshold of 'corresponding period' almost a month ago, the higher than 'normal' sown area of the entire season by nearly nine lakh hectares indicates that the overall sown area may almost touch the record level of last year by end of this month. "It has already crossed the 'normal' acreage threshold, giving a good sign of recovery in the past one months despite a huge monsoon rain deficit of over 24% in August. As sowing operation continues, the overall sown area figure will definitely reach close to the 2020 mark," said an official.
Asked about the reason for the good progress despite the rain deficit, the official added, "It's possible due to drought-proofing (setting up irrigation infrastructure) of northwest India which depends less on monsoon compared to rainfed areas of central India. Besides, farmers are also gradually switching from water-guzzler paddy to less water-consuming crops such as coarse cereals and pulses in the region."
Since the practice of using ground water is also highly prevalent in Punjab and Haryana, the farmers in these states invariably resort to such methods of irrigation in absence of rain.