Live: Demons nearing first premiership since 1964, storming away from Bulldogs in AFL grand final
4 min read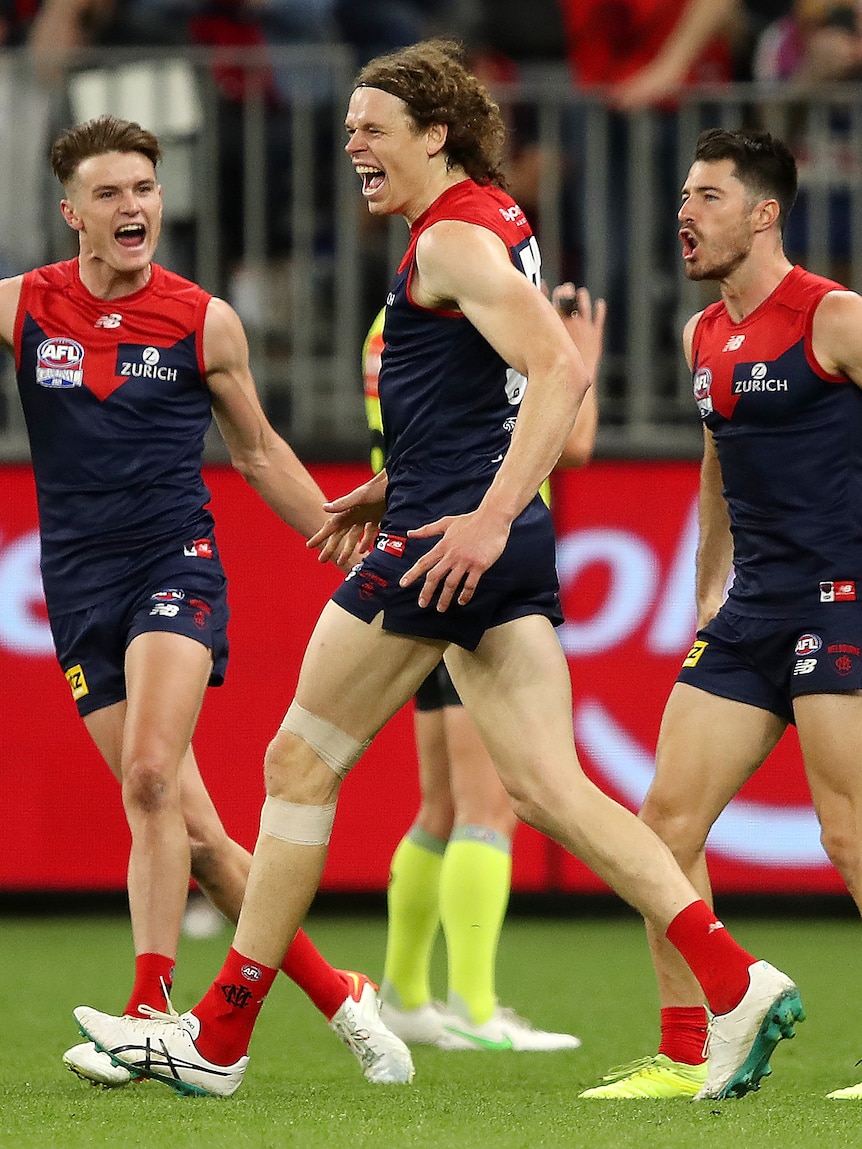 Melbourne's premiership drought ends with a massive win over the Bulldogs in the AFL grand final, on the back of 12 straight goals in the third and fourth quarters.
Follow our AFL grand final live blog.
Live updates
AND HE HAS KICKED IT! WHY NOT?!? EVERYONE CAN HAVE A BITE!
They get around the young fella too. Some of these Melbourne players look a little overwhelmed.
6′: Speaking of Christian Petracca, he has 40 disposals to his name now. Nobody in the history of VFL/AFL football has done that before. Jeez. Luke Jackson, who has been absolutely brilliant tonight, is now lining up for goal…
CHRISTIAN SALEM GETS IN ON THE ACT!
He's played a stellar game down back, but floats forward late to join in the fun. Who can blame him?!? He's a little unlucky Petracca has played so well, because he has been right up there among the best.
TRELOAR GETS ONE BACK FOR THE BULLDOGS
Tough one for Treloar, who led the second-quarter fight back. Not his night.
8′: Brayshaw receives on the run from Petracca (of course), streams inside 50 and misses the lot.
MCDONALD GOALS! A BEAUTIFUL DOZEN FOR MELBOURNE!
They don't look done either.
9′: You can start engraving Petracca's name on the medal now, he's still at it. He spins and hits up Tom McDonald, who has a chance to kick Melbourne's 12th in a row.
10′: Cody Weightman marks on the lead deep in the forward pocket. They haven't kick a goal for what feels like three hours. They still haven't, Weightman puts it out on the full.
12′: We're on Norm Smith watch now. I would say with some confidence it's going to be Christian Petracca's, but Clayton Oliver, Christian Salem and maybe Bayley Fritsch have cases too. Speaking of Fritsch, he's lining up for number six… and he shanks it. A rare miss.
ED LANGDON ADDS ANOTHER! IT'S PARTY TIME IN PERTH!
The Dogs have slowed to a crawl and the Melbourne players are enjoying a quarter of footy 57 years in the making. Tears will be being shed all round the country right now.
15′: Lachie Hunter was just strolling down the wing by himself, and messed up the bounce. It went out of bounds. That'll be that then.
WHO KICKS ANOTHER! MELBOURNE WILL BE PREMIERS!
You can call it now! It's happening, Dees fans! The lead is 42 points with 14 minutes to go!
16′: Another shot coming up for Neal-Bullen! In fairness Petracca was dead to rights holding the ball on the wing, but the whistle didn't come so Langdon carried it forward and hit up ANB…
16′: A score for the Bulldogs! It's a rushed behind after May put his fists through one. There's no sign of spark from them just yet, and it's going to have to come very, very soon.
18′: AGAIN Melbourne are out and away out the front of a stoppage! Petracca flies forward, majestically charging towards 50, only to narrowly miss his shot. 37-point margin.
HE'S GOT IT! FRITSCH HAS A BAG IN A GF!
Might almost be time to unfurl that grand old flag!
19′: This might be turning into a bloodbath! The Dogs can't get a finger on the ball, and now Bayley Fritsch is lining up for his fifth…
BEN BROWN MAKES IT A 30-POINT GAME!
It's getting pretty close to party time for Melbourne! They've started the last just as they ended the third, which spells terrible news for the Bulldogs!
Posted , updated