Mamata Banerjee's TMC joins Koo, indicates emphasis on Tripura
3 min read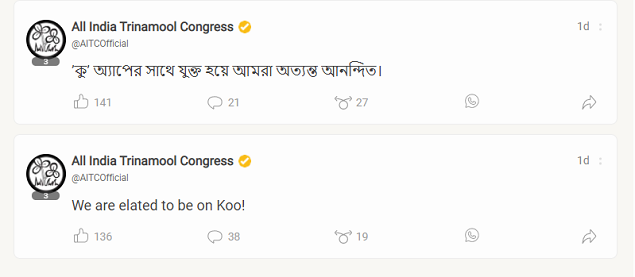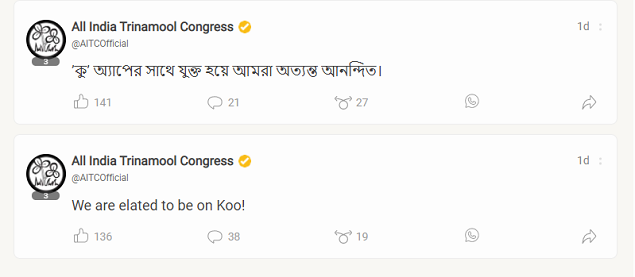 NEW DELHI: The Indian micro-blogging site Koo has received a boost with West Bengal chief minister Mamata Banerjee-led Trinamool Congress (TMC) joining it on September 2. With this development, the indigenous social networking platform has become more diversified as it is perceived to be largely followed by the ruling BJP and its NDA alliance partners.
Besides its main handle @AITCOfficial, TMC has opened two more accounts – one for its Tripura unit (@AITC4Tripura) and the other one for its West Bengal unit's students' wing (@WBTMCPofficial) – on Koo app, which is perceived to be the Indian version of Twitter.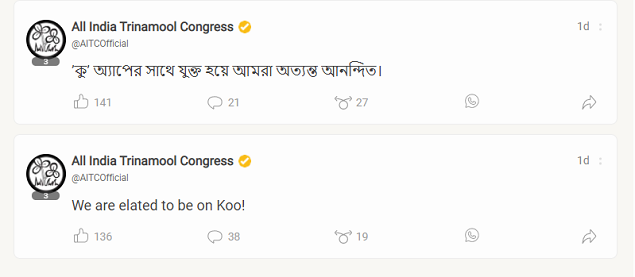 This indicates the importance which TMC is attaching to Tripura where it is likely to contest the assembly election 2023. Mamata Banerjee's party is seeking to become the main rival of the ruling BJP in the absence of the Congress and a weakened CPM.
In their first Koo in both Bengali and English, TMC said, "We are elated to be on Koo".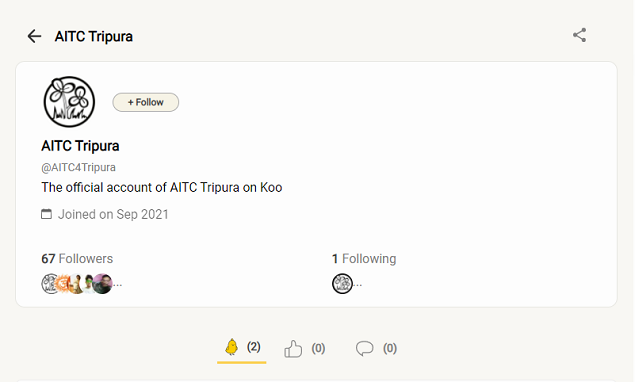 Welcoming TMC, Koo co-founder and CEO Aprameya Radhakrishna, said, "Koo extends a warm welcome to the All India Trinamool Congress (AITC). We believe that this will enable the people to listen to the AITC's developments and plans. In a short time, Koo has crossed 10 million downloads and we look forward to more people joining the platform."
TMC may have joined Koo, but a large number of political parties and top leaders are yet to open their account on the Indian social media platform. For instance the two biggest political parties – BJP and Congress – do not have their account on Koo.
The top-most leaders from the ruling party such as Prime Minister Narendra Modi, home minister Amit Shah and BJP president JP Nadda have not opened their account on Koo. Similarly, Congress leader Rahul Gandhi, his sister and All India Congress Committee (AICC) general secretary Priyanka Gandhi Vadra and other senior leaders too have not joined Koo as yet.
Of the 77 Union ministers, 18 have joined the Indian social media platform. They are Nitin Gadkari, Piyush Goyal, Smriti Irani, Arjun Munda, Kiren Rijiju, Dharmendra Pradhan, Narendra Singh Tomar, Mansukh Mandaviya, Mahendra Nath Pandey, Pralhad Joshi, Gajendra Singh Shekhawat, Ashwini Vaishnaw, Sarbananda Sonowal, Giriraj Singh, Hardeep Singh Puri, G Kishan Reddy, Anurag Thakur and Bhupender Yadav.
Of the total 30 chief ministers, almost half have joined Koo. Of the 14 CMs on Koo, 11 are of the BJP – Yogi Adityanath (Uttar Pradesh), Himanta Biswa Sarma (Assam), Pramod Sawant (Goa), Vijay Rupani (Gujarat), Manohar Lal Khattar (Haryana), Jai Ram Thakur (Himachal Pradesh), Basavraj Bommai (Karnataka), Shivraj Singh Chouhan (Madhya Pradesh), N Biren Singh (Manipur), Biplab Kumar Deb (Tripura) and Pushkar Singh Dhami (Uttarakhand).
Ashok Gehlot (Rajasthan) and the Chief Minister's Office (CMO) of Punjab are the two from the Congress. YS Jaganmohan Reddy of YSR Congress (Andhra Pradesh) is the only non-BJP and non-Congress CM on Koo.
The several political parties or their leaders who have opened their account on Koo include the BJP, Congress, AAP, LJP, JJP, BSP, SP, Suheldev Bhartiya Samaj Party, JDU, People's Party, AIMIM, CPI(M), JDS, YSRCP, Shiv Sena, NCP, RJD, JMM, RLD and Apna Dal.
Koo, which was launched in March 2020, is currently available in eight languages. It has witnessed over one crore downloads in about 17 months.