Minnaram: Mohanlal to take you on a joy ride
3 min read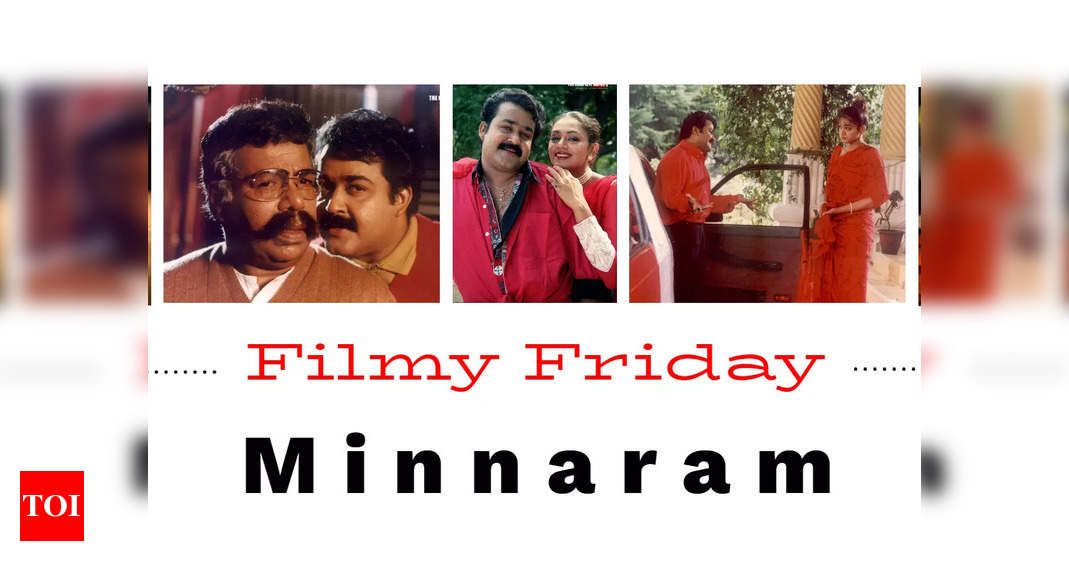 We are back with an exciting new episode of #FilmyFriday. Weekend equates to fun, but after a tiring week at work, most of us aren't up for dinner at fancy places. Tuning into an old movie in the comfort of your home, and watching it along with your loved ones, seems to be a rather practical and fun way to spend the Friday evenings.
ETimes presents – #FilmyFriday, wherein we recommend our readers one Malayalam classic, every week. And since it's all about having fun, we aim to pick movies that one can watch lightheartedly and for this week we have chosen 'Minnaram', featuring Mohanlal in the lead.

Director: Priyadarshan

Cast: Mohanlal, Shobana, and Thilakan, with Sankaradi, K. P. Ummer, Jagathy Sreekumar, Geetha Vijayan, Venu Nagavally, Lalu Alex, Anju, Augustine, Maniyanpilla Raju, Kuthiravattam Pappu, T. P. Madhavan, Subhashini, Bobby Kottarakkara, Nandhu

Release year: 1994
The film opens with Chackochan (KP Ummer) arriving at a restaurant-cum-club. From his interaction with the people, it is evident that Chackochan is a moneylender, and obviously a penny pincher. He has come to meet his dear friend Rtd. IG. Matthew Varghese (Thilakan). Mathew, who used to be a jail superintendent, however, seems to be very reluctant to speak about why he wanted to see Chackochan. He needs Rs. 30 lakh as his son Baby (Venu Nagavalli) fell short of some money for his business. Although Chackochan is a penny pincher, he is happy to help, considering his bond with Mathew. And during their interaction, it is also understood that Chackochan's daughter Teena and Mathew's nephew Bobby (Mohanlal) are betrothed. Bobby's parents passed away during his childhood and it was Mathew who raised him and is a father-like figure.

The filmmaker soon gives a glimpse of Bobby and Teena who are on an outing with Baby's kids. By dusk, all of them return to the manor (yeah, they are financially well-off). Mathew is irked that they are running late and the kids hate their grandpa with life. They are mischievous and do not listen to a word that their grandpa says and also refer to him as 'Karimbootham'. Once they are back, Mathew tells Baby that he has decided to tame the kids at any cost and begins to take a trip through memory lane. Like any retired cop, he too likes boasting about his past work life, and all of them flee, except the cook (Sankaradi) who is unfortunately forced to listen!

After a series of events, the kids are introduced to a new tutor (Kuthiravattam Pappu), however, the kids drive him off and the chronicles of Mathew and his sword comes of great help for the process (It is impossible to describe how, and you would be able to enjoy it in all its glory, only while watching it). The filmmaker also takes the audience through the life of Daisy, who is a dear friend of Bobby and his husband Unnunni (Jagathy Sreekumar), who suspects her infidelity, with every other man she meets.

The happy home changes course, as Bobby's allegedly ex-girlfriend (well, you can decide if they were a couple after watching the whole film) Neena (Shobana) lands at the manor with a kid. She claims that Bobby is the father of the child. Bobby and Neena have a past, however, he is certain that the kid is not his. The filmmaker gives glimpses of their past and the events that happen in present. From Unnunni suspecting his wife having an affair with Bobby to Bobby's continued efforts to shed light on the matter of kid and investigate the truth, the Priyadarshan film is an out-and-out entertainer.

Nonetheless, to say Thilakan, Mohanlal, Shobana, and Jagathy Sreekumar nailed their acting game, and the colourful songs, hysterical comedy, and the gripping series of events will glue your eyes to the screens.
Trivia


The film was remade into Tamil as 'Azhagana Naatkal' in 2001.
Priyadarshan remade 'Minnaram' in Hindi as 'Hungama 2'.