Movie Review: Republic -3.0/5
4 min read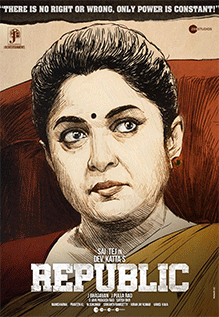 Story: Panja Abhiram is a youngster who wants to change the political system from the inside out. But when he's chipped away at every turn, will he be the one to change the fate of his hometown?
Review: Deva Katta tackles topics that are common knowledge yet taken for granted in Republic. Newspaper headlines often read of how a whistle-blower or an honest bureaucrat met a fate that both reads like a warning sign and deflects others from following their chosen path. And while the four pillars of democracy are left blaming each other, who is really at fault here?
There is a young man called Panja Abhiram (Sai Dharam Tej) who has a bright future at MIT in the US. Instead he chooses to stay back in his hometown Eluru and write the civils to be anything but like his father Dasarath (Jagapathi Babu), a corrupt officer. Even as seeds are sown for his reign as a district collector, the Thelleru water body that has been encroached for fishing purposes is rotting. The farmers, whose land surrounds the water body, are killing themselves because they see no future. Minister Vishakha Vani (Ramya Krishnan) is a businesswoman turned politician who draws the lines here, expecting no one to cross them. Myra Hanson (Aishwarya Rajesh) is an NRI looking for her missing brother. In this game of chess where only one can emerge winner, will it be Abhi?
Early on in the film Abhiram says, "Nenu Bharateeyudu ni kadu, Aparichitudini kadu," referencing Shankar's famous films where taking the vigilante route seems to be the only answer. This young man however believes otherwise. He doesn't believe rapists should be killed in fake encounters or that a criminal who has shoot-at-sight court orders on him should be allowed to roam free. Even as he sees the Legislature, Executive and Judiciary crumble around him, he remains steadfast that truth must prevail and the people must get back their power. Isn't that what a democracy is supposed to be? Then again, when the people themselves are flawed and test boundaries for their own greed, who is to blame or left to fight for? Deva Katta excels at setting the story firmly in place in Eluru. Him and Kiran Jay Kumar (who co-wrote the screenplay) do a good job at penning some hard-hitting dialogues and scenes.
Republic unfolds slowly through Abhiram's eyes. As the film progresses, we're told that the ones surviving are the ones who've gotten used to the 'system' and the ones meeting their deaths are the ones who are revolting against it. But who's really pulling the strings here? Every character in this film who're called out by Abhi for being corrupt have their own backstory for being the way they are. Are they just surviving or morally corrupt because they're greedy? There seems to be no right answer. Myra also has her fair share of troubles she must veer from and yet her fate seems interlinked only to how it pushes Abhi. Deva Katta does a good job of showing how gender politics come to play even when doling out undignified death but it's not explored enough to leave an impact.
The first half of the film gives Sai Dharam Tej a chance to show off his dance moves before getting into the thick of things. But this is not a film where you're going to be provided any entertainment (rightly so) because Deva Katta has a bigger story to tell. By the end of it all you wonder if any character in this film, including Abhi and Vishakha Vani who spend most of the second half butting heads, even mattered in the long run. This is also a metaphor he explores when he tells the story of 'devil fish' ruining the eco-system. The film makes it clear that heroism and right intentions are also usually never enough to save the day.
Republic is not without its flaws. While the film keeps you engaged, the pace might test the patience of those who want to know where it's all headed. The score and songs by Mani Sharma are okay. While Deva Katta sows the seed that every person is a result of their past trauma and experiences, not enough is done to delve deeper. Even a woman getting sexually exploited or a farmer brutally killed in broad daylight end up being nothing more than a plot point to show the extent people will go to. The cinematic liberties taken stand out like a sore thumb sometimes. After a point it feels like the director takes on too much at once.
Sai Dharam Tej gives the film and the character his all. He manages to carry the heft of the film even if he falters during some scenes. Nonetheless, it feels good to see actors move to scripts that demand more than the usual heroism from them. Ramya Krishnan is delicious as the baddie, a woman who will smile in your face even as she plots your fate. A dramatic scene where these two face-off shows just how adept she is at what she does and just how naïve and raw Abhi is at handling dirty politics. Aishwarya Rajesh is good in her role but in a film where even the lead is nothing more than a character to explore the film through, she ends up handed the short end of the stick. Srikanth Iyengar, Rahul Ramakrishna and Jagapathi Babu too shine in their roles.
Republic is not the film to watch if you're looking for light-hearted entertainment. But if you're in the mood for a fairly realistic political drama with an intense and heart-breaking ending, watch the film.