Only fully vaccinated should attend mass gatherings: Government
3 min read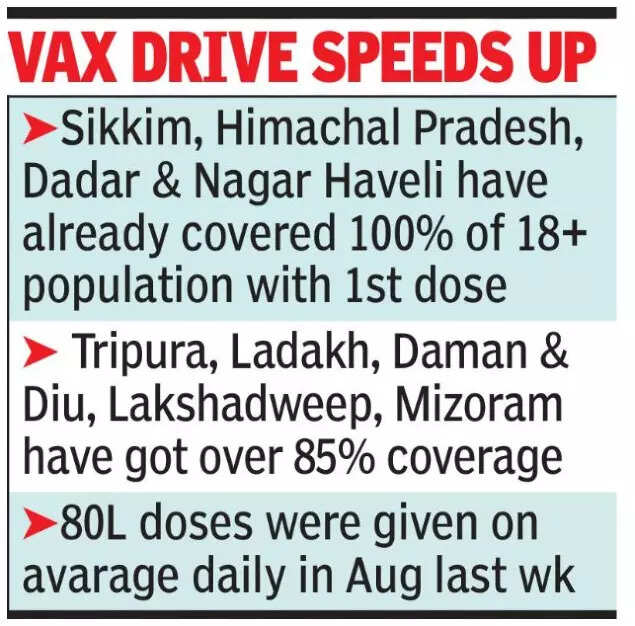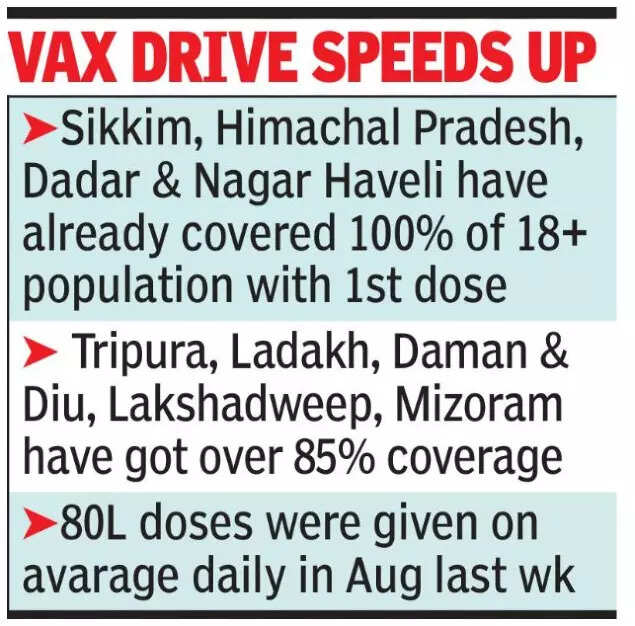 NEW DELHI: The government has urged people to avoid mass gatherings and added that if attending them is essential then full vaccination should be a prerequisite especially during the upcoming festive season.
The Centre has also warned against lowering the guard amid reports of a continuous surge in Covid-19 cases in some districts.
"Mass gatherings should be discouraged, particularly in the upcoming festival season… Full vaccination should be a prerequisite if it is absolutely essential or it becomes critical to have a gathering of some people," Indian Council of Medical Research (ICMR) director general Balram Bhargava said on Thursday.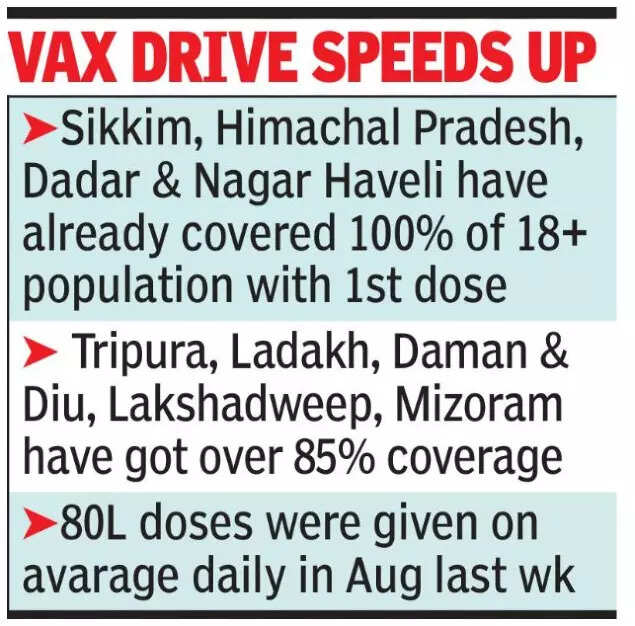 The government aims to cover majority of the adult population with at least one dose of Covid vaccine before October when chances of spreading infection are to be higher amid festivities. Average daily vaccinations increased to more than 80 lakh doses in the last week of August with the help of improved supply of jabs, while over one crore doses were administered twice during the week.
The monthly average of daily doses also jumped to 59.29 lakh in August, up 36.5% from a daily average of 43.41 lakh in July and over 200% from average 19.69 lakh doses per day given in May.
With vaccination getting a major push in the last week of August, many smaller states and Union Territories have achieved or are nearing 100% coverage of adult population with the first dose. While Sikkim, Himachal Pradesh and Dadar & Nagar Haveli have already covered 100% of 18 plus population with the first dose, others like Tripura, Ladakh, Daman & Diu, Lakshdweep and Mizoram have got over 85% coverage, officials said.
Keeping in mind the upcoming festival season, health secretary Rajesh Bhushan said, "We have not seen the conclusion of the second surge in the country and therefore, we have to be on guard. We have to adopt Covid-appropriate behaviour."
Though the trajectory of new cases is declining in most states, some districts are still reporting a rising trend. Around 42 districts – concentrated mostly in Kerala and Maharashtra, along with some in Tamil Nadu and Andhra Pradesh – are still reporting more than 100 new cases daily. Kerala – with more than 2.30 lakh active cases – alone accounted for 69% of the total fresh cases recorded last week.
Though the spread is limited to particular geographies, the Centre is concerned that rapid transmission of virus can result in new mutation that can lead to a wider spread across other states.
"The risk of mutants will remain in future. The tools to prevent it like wearing of mask, avoiding large gatherings, testing and vaccination are in our hands," NITI Aayog member health Dr V K Paul said.
"We have to be careful, particularly in the context of the festival season and the change in weather… Even as we accelerate our vaccination programme, our precautions against the virus must continue," he added.
The government also urged people to embrace vaccination as it can protect against severe infection and death, and also continue to wear masks even after vaccination. In August, a total of 18.38 crores of doses were given, up from 13.45 crore in July.
"That's a huge achievement and would not have been possible without very effective and optimal participation of all healthcare workers, state governments and Union Territory administrations," the health secretary said.
Overall, 66.95 crore doses of Covid vaccines have been administered in the country till Thursday 8pm.
Even though the country's overall weekly positivity rate is showing a decline, 39 districts – mostly in Kerala and in some north eastern states — reported over 10% weekly Covid positivity rate in the week ending August 31 while in 38 districts it was between 5 and 10%.