Over 40 lakh teens get first vaccine shot; Omicron drives Delhi spike: Top developments
5 min read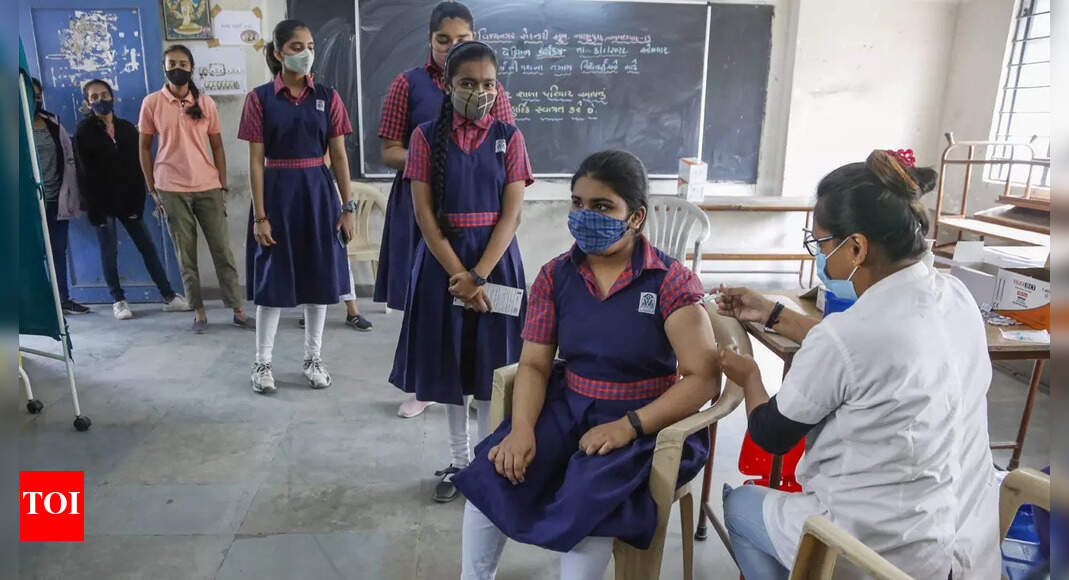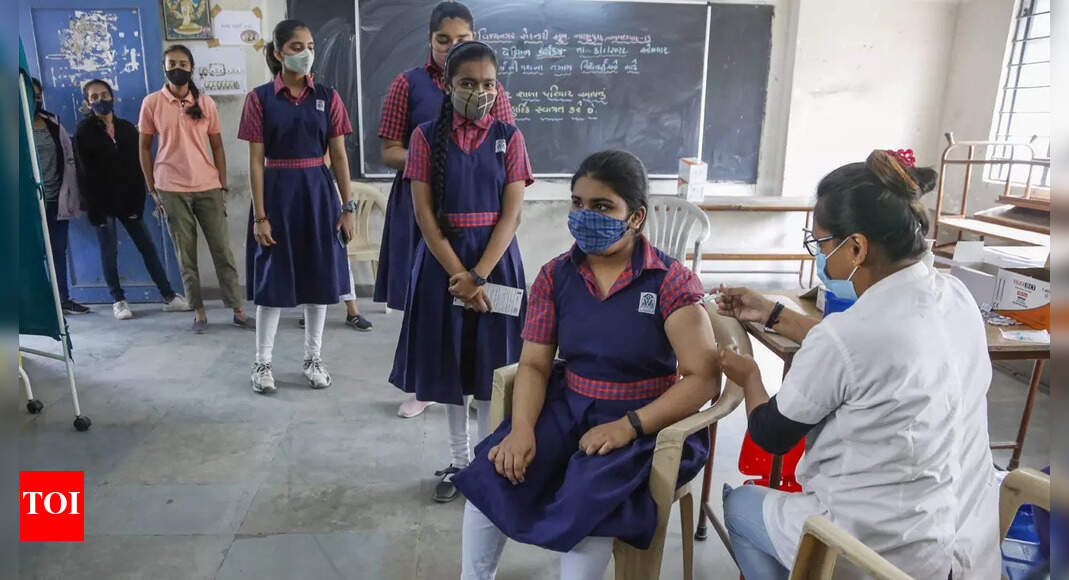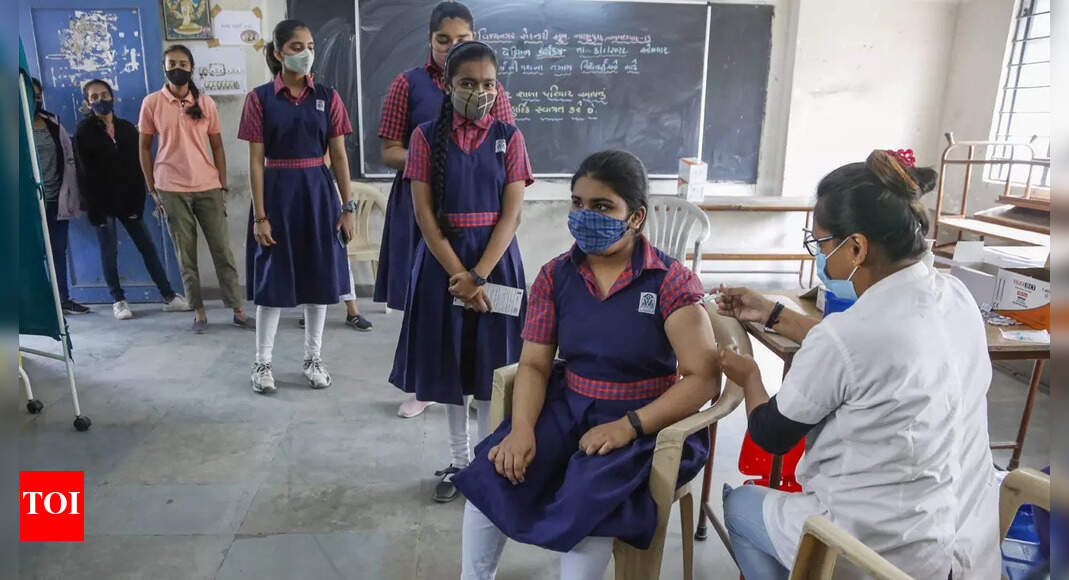 NEW DELHI: Over 40 lakh children in the 15-17 age bracket received their first Covid vaccine dose on Monday as India opened the special vaccination drive for those below 18.
Meanwhile, Covid cases continued to soar across metro cities, especially Delhi which reported nearly 1,000 more daily cases than yesterday's count.
Here are the top developments of the day:
Teens line up for 1st jabs, parents relieved
Over 40 lakh teenagers got vaccinated across the country at the start of the inoculation drive for the 15-18 age group on Monday, according to latest data on CoWin. An estimated 7.4 crore children fall in this age group.
Many of the beneficiaries and their parents said they were eagerly waiting for it and feel a sense of relief, especially in the backdrop of the fresh rise in cases.
From setting up attractive selfie points to putting up imaginative posters and colourful balloons, the designated vaccination centres, mostly schools and educational institutes, were decked up to welcome the youngsters.
The children are only eligible to receive Bharat Biotech's Covaxin for now.
Today we have taken an important step forward in protecting our youth against COVID-19. Congrats to all my young fr… https://t.co/8A1WcNaYzm

— Narendra Modi (@narendramodi) 1641222038000
"Today we have taken an important step forward in protecting our youth against COVID-19. Congrats to all my young friends between the age group of 15-18 who got vaccinated. Congrats to their parents as well. I would urge more youngsters to get vaccinated in the coming days!" PM Modi said on Twitter.
Cases soar in Delhi; mild relief in Mumbai and Bengal
Daily Covid cases continued to rise at a brisk pace in Delhi where the positivity rate has been hovering over the 5 per cent mark. However, Mumbai and West Bengal did not see a huge spike in cases compared to yesterday.
Here's an upshot …
– Delhi reported 4,099 cases on Monday compared to Sunday's count of 3,194. The positivity rate now stands at 6.46%, which is deemed to be dangerously high. The Delhi government said that 84% of the samples sequenced in last two days were of Omicron variant.
– Mumbai reported 8,082 cases on Monday, just slightly higher than yesterday's 8,063 without any dip in testing. Over 90% of the new cases were asymptomatic.
– West Bengal on Monday registered 6,078 new Covid-19 cases, 75 less than the previous day's figure.
– Tamil Nadu reported 1,728 new cases on Monday, higher than yesterday's 1,594.
– Karnataka reported 1,290 fresh infections, of which 1,041 were from Bengaluru Urban alone. The state had reported 1,187 cases yesterday.
– Gujarat reported 1,259 new coronavirus positive cases, the highest single-day rise in the last seven months.
Meanwhile, the Union health ministry said earlier today that over 1,700 Omicron cases have so far been reported in India.
Centre allows work from home for 50% of select staff
The Centre has allowed 50 per cent of its employees below the level of under secretary to work from home amid rising coronavirus cases, according to a personnel ministry order issued on Monday.
People with disabilities and pregnant women employees have been exempted from attending the offices, it said.
Central government officers/staff will have to follow staggered timing to avoid overcrowding in the offices, the order said.
All the officers/staff residing in Covid containment zones have also been exempted from coming to office till containment zones are de-notified.
The Centre has also suspended marking of biometric attendance for all its employees till January 31.
Goa sees massive spike post New Year revelry
Goa on Monday reported 631 new Covid-19 cases with the positivity rate jumping by 16 per cent to 26.43 per cent, officials said. The cases are almost double than yesterday's count of 388.
As cases surged, the state government has decided to close schools and colleges till January 26. The government is also likely to impose night curfew.
Separately, as many as 66 of the over 2,000 people on board the Cordelia cruise ship, which came to Goa from Mumbai, have tested positive for Covid-19.
The cruise liner was carrying hordes of New Year revellers.
More curbs in more states
Besides Goa, other states too tightened restrictions to curb the spread of infections.
Amid a spike in cases, the Mumbai civic body has decided to shut down schools for classes 1 to 9 and 11 till January 31. Only students in Classes 10 and 12 can attend schools.
The Jharkhand government on Monday closed swimming pools, gyms, zoos, tourist places and sports stadiums amid a rise in cases.
Schools, colleges and coaching institutes will also remain closed till 15 January.
A maximum of 100 people can participate in outdoor events while indoor events can be held with 50 per cent of the total capacity or 100, whichever is less.
Offices of government and private institutions will remain open with 50 per cent capacity.
The West Bengal election commission on Monday imposed a ban on roadshows and bike rallies during the municipal corporation elections.
EC asks poll-bound states to step up vaccination
Days after assessing the Covid-19 situation in the five poll-bound states, the Election Commission has asked them to step up the inoculation drive against the viral disease and ensure that the personnel to be deployed on election duty are "double vaccinated".
In a recent letter to the chief secretaries of Uttar Pradesh, Uttarakhand, Goa, Manipur and Punjab, the EC has also reminded the five states that polling personnel come under the category of frontline workers and are eligible for the "precaution dose" of the Covid vaccines, sources said.
The commission has said the polling personnel to be deployed in these states should be fully vaccinated and those eligible for the second dose of the vaccines should be administered the jabs on a priority basis, the sources said citing the letter.
Some positive news?
Meanwhile, a fresh study has revealed that infections caused by the Omicron variant of the coronavirus in South Africa were milder compared to those in earlier waves, while hospitalisation rates were lower.
The yet-to-be peer-reviewed study, posted as preprint in The Lancet, found that there were 41,046, 33,423, and 133,551 SARS-CoV-2 cases in the second, third and fourth waves respectively.
About 4.9 per cent of cases were admitted to hospital during the fourth wave compared to 18.9 per cent and 13.7 per cent during the second and third waves, the researchers said.
During the fourth wave, 28.8 per cent of admissions were severe disease compared to 60.1 per cent and 66.9 per cent in the second and third waves, they said.
Admitted patients in the Omicron-dominated fourth wave were 73 per cent less likely to have severe disease than patients admitted during the Delta-dominated third wave, according to the researchers.
(With inputs from agencies)