Politics heats up over Lakhimpur Kheri incident: Key developments
3 min read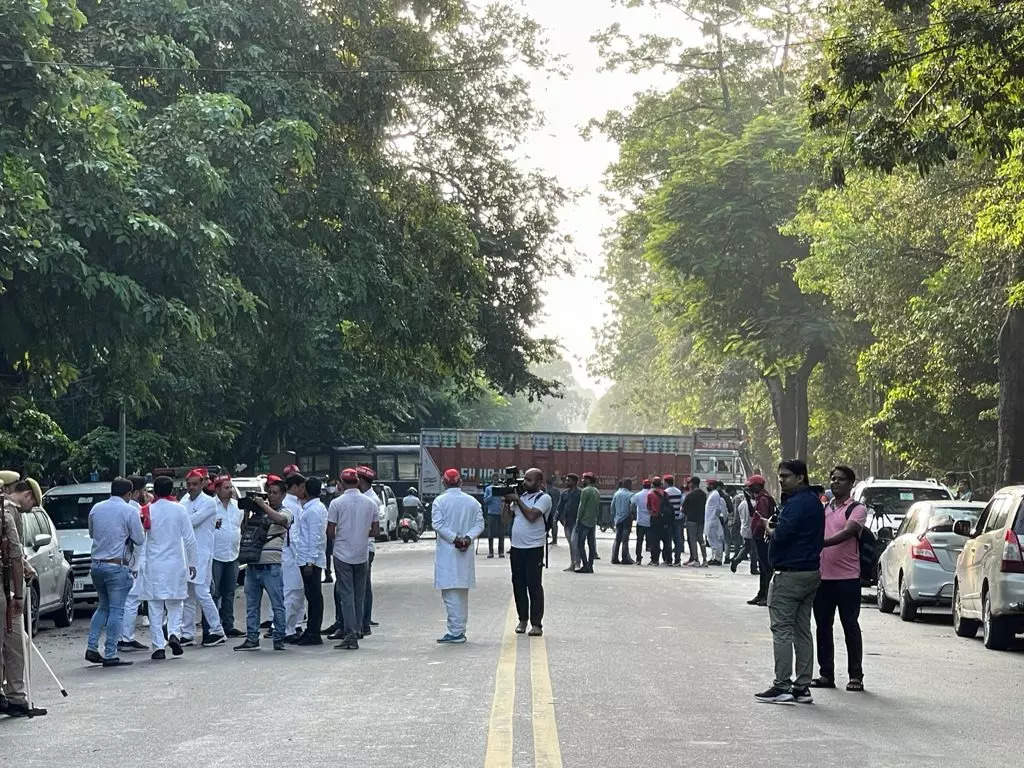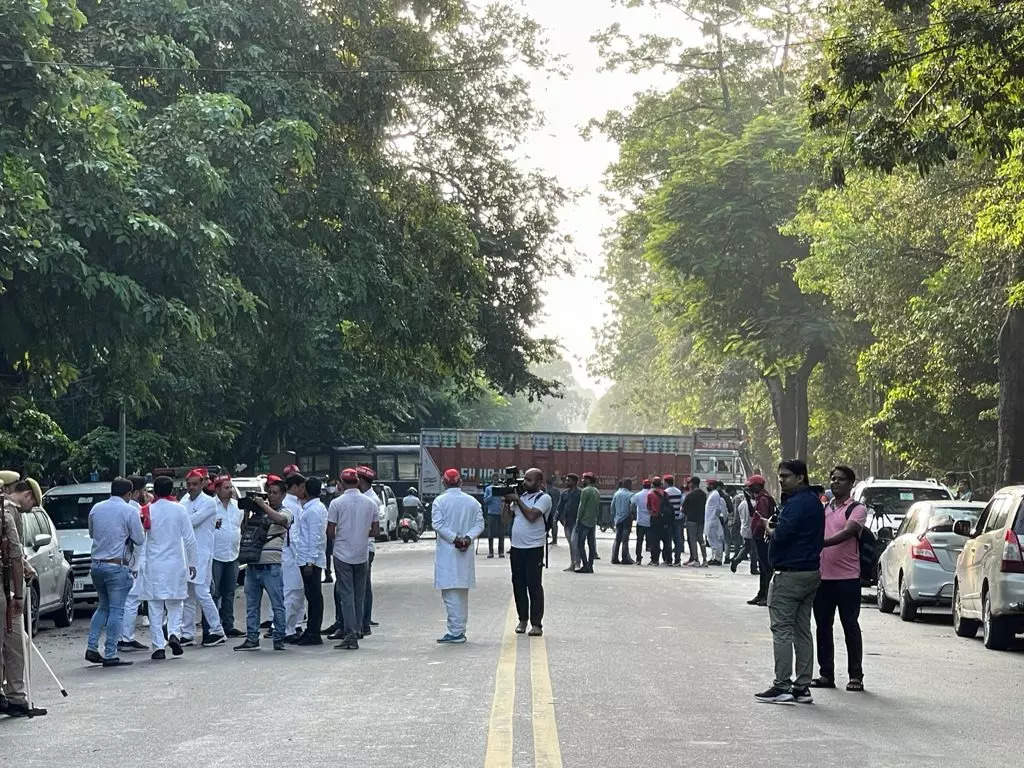 NEW DELHI: What began as another regulation protest by farmers in UP's Lakhimpur Kheri against the new farm laws, took an ugly turn after a vehicle allegedly ploughed into the crowd.
Cars that were part of Union minister of state for home Ajay Mishra Teni's convoy allegedly mowed down four farmers. There have been contradicting reports on whether the minister's son was in one of the cars.
Retaliation was swift and the angry farmers reportedly beat four BJP workers to death before setting their vehicles on fire.
Forces have been deployed in good numbers in the troubled region, and internet suspended, according to some reports.
Protested erupted on Monday morning, with Samajwadi Party and other opposition parties descending on to the streets of UP.
The Samyukta Kisan Morcha has written to President Ram Nath Kovind, demanding investigation of the Lakhimpur Kheri incident by an SIT under the supervision of the Supreme Court.
Here are the top developments:
FIR lodged against minister's son
An FIR has been lodged in the Lakhimpur Kheri violence case against Union minister of state for home Ajay Mishra's son and some others, PTI reported quoting a senior UP official.
UP minister Sidharth Nath Singh said, "The CM has said that culprits will be punished. Opposition is using the incident for political tourism & political competition as polls are around the corner."
The SKM in its letter to the President demanded that minister Mishra be dismissed and a case filed against him for inciting violence and spreading communal hatred.
They also demanded that his son Ashish be booked under Section 302 (murder) and arrested immediately.
Akhilesh Yadav taken into preventive custody
Police tried to remove Samajwadi workers staging sit-in near Akhilesh Yadav's residence in Lucknow.
Senior police officials urged SP leaders to end the protest, but were declined. Police even tried to physically remove SP workers from the site.
Some shoving and jostling ensued, after which Yadav was taken into preventive custody and made to sit inside a police vehicle. He was later taken to Gatam Palli police station and formally arrested.
SP national general secretary Ram Gopal Yadav was also taken into custody.
Lucknow police commissioner DK Thakur arrived at Gautam Palli police station to oversee the situation outside the Samajwadi Party headquarters.
Opposition parties up in protest
Protests erupted against the Lakhimpur Kheri incident since early Monday morning. Several leaders attempted to reach the area, but were stopped by the police.
Heavy deployment was made around Samajwadi party leader Akhilesh Yadav's house in Lucknow, with barricades and trucks deployed to obstruct movement of vehicles.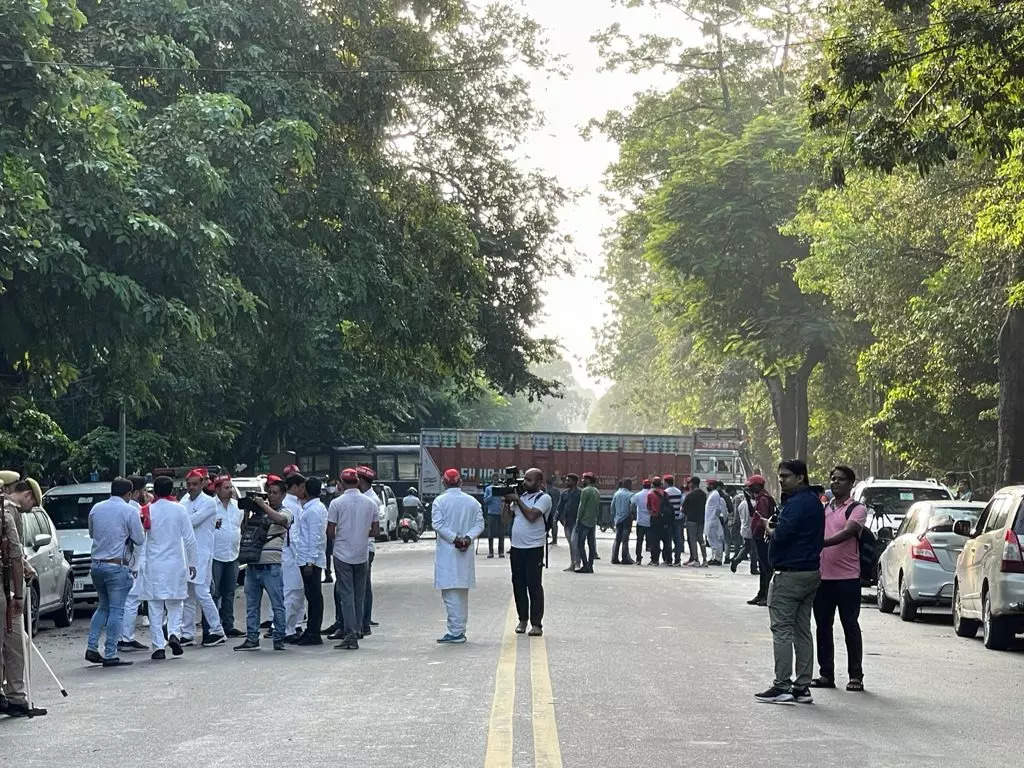 Akhilesh left his house but could not proceed much further. He, along with party workers staged a sit-in close by. A police vehicle was set on fire outside Gautum Palli police station, not far from the sit-in site.
Pragatisheel Samajwadi Party – Lohia chief Shivpal Yadav managed to hoodwink police outside his residence and head for Lakhimpur Kheri. However he, along with some supporters, was taken into custody by police near Engineering College Jankipuram in Lucknow.
UP chief minister Adityanath cancelled his scheduled visits to Shrawasti and Bahraich in light of the Lakhimpur Kheri incident.
Priyanka Gandhi detained
Congress leader Priyanka Gandhi arrived at Lucknow airport last evening on her way to Lakhimpur Kheri. But her vehicle was stopped at several places by the police.
Priyanka, accompanied by party leader Deepender Singh Hooda among others, had to take alternative routes to reach the bordering Hargaon area in Saitapur early on Monday morning, where she was stopped.
Priyanka, accompanied by party leader Deepender Singh Hooda among others, had to take alternative routes to reach the bordering Hargaon area in Saitapur early on Monday morning, where she was stopped.
After a minor scuffle with women constable, Priyanka demanded to see her arrest warrant. The police personnel took her into custody and she was taken to the PAC office in the district.
Uttar Pradesh government has written to Punjab chief secretary, urging not to let anyone from the state go to Lakhimpur Kheri where Section 144 was imposed following death of 8 people in violence on Sunday.