Reena Roy: After 'Nagin' fans wrote me letters in blood
12 min read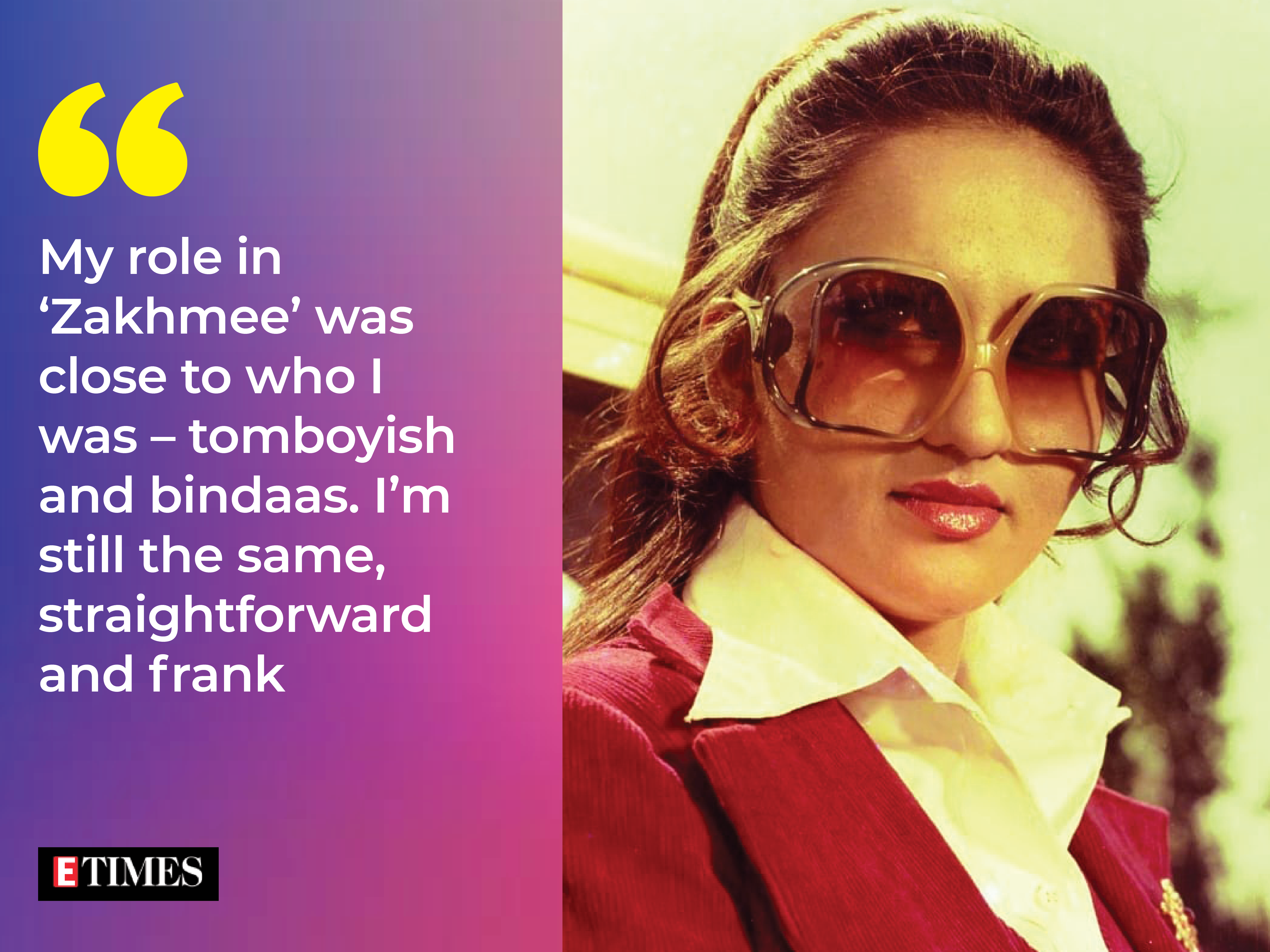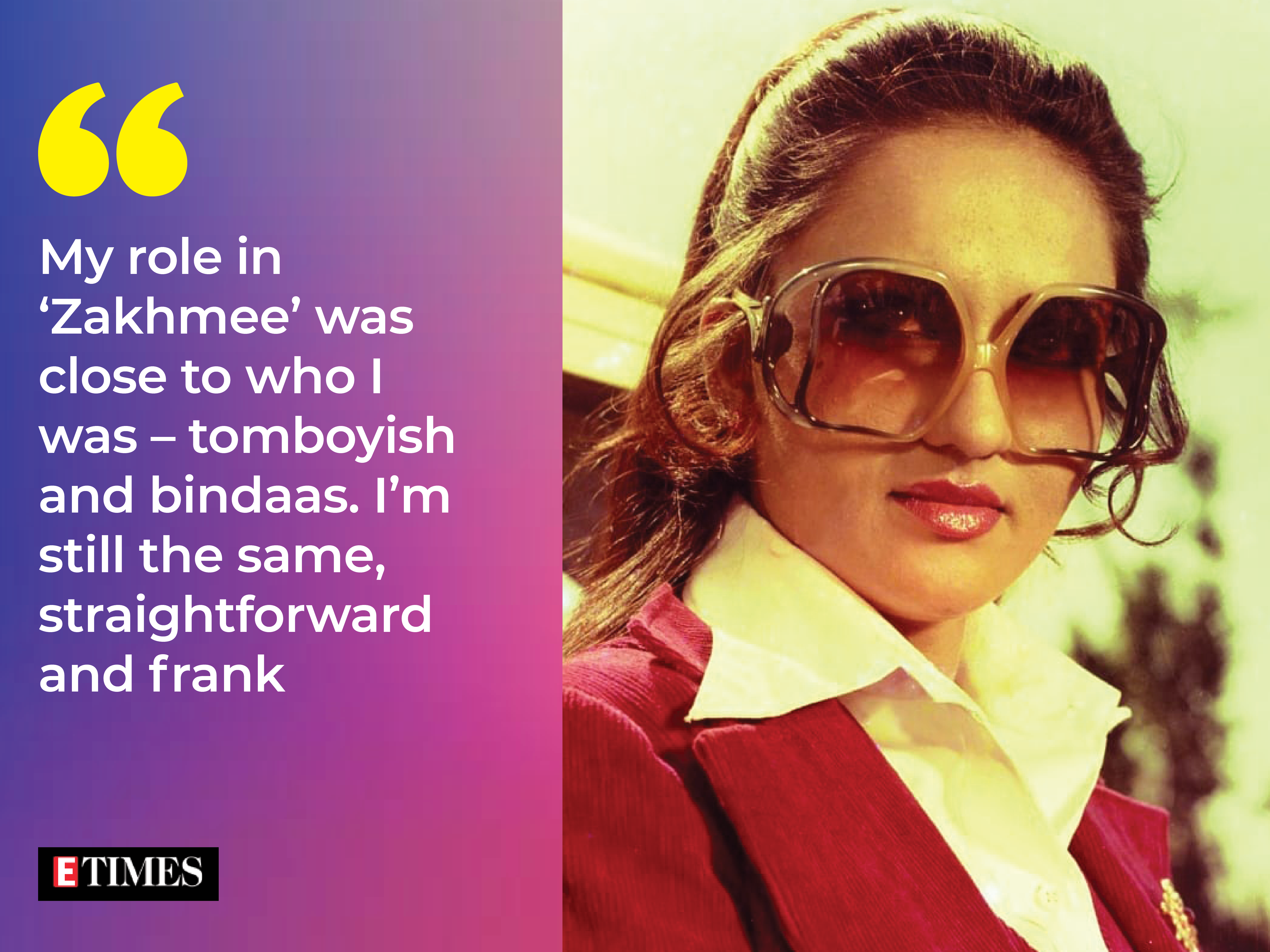 'Sheesha ho ya dil ho, aakhir toot jaata hai…' While Anand Bakshi's song from the superhit 'Aasha' spoke of heartbreak and weathering the storm alone, Laxmikant-Pyarelal gave it an upbeat rhythm, rendered with equal verve by Lata Mangeshkar. What immortalised this number further was Reena Roy's sanguine presence as she took centre-stage in silver and black, cutting a picture that's as dauntless as dazzling on reel. The image comes closest to the actress, who in real life believes in taking on challenges with a smile. "I don't reveal my tears to anyone," says Reena who prides on her resilience. It was the same penchant to beat the odds that made her play a nagin, a role declined by topliners, only to seduce millions with her sway and sensuality. That Nagin has spawned several films and TV serials recaps Reena Roy's serpent spell. A pout that beckoned a million paramours, eyes fiery and fluid… Reena Roy implied vibrance.
In her personal life too, Reena has been a winner, taking the bumps, chin up and with cheer. Refusing to play the victim card, she revels in life as it unfolds. While her daughter – Sanam Khan – is the star of her life, she enjoys sharing happiness with those who touch her life. In fact, building a home for the aged for industry brethren is a dream seeking to find fruition. Around her birthday (January 7), she's in a buoyant mood…

Excerpts from the interview:

It's said you were first spotted by Nargis Dutt…
We used to live on 16th Road Khar, when Nargisji spotted me. I was playing seven tiles with my friends. Those days their production house, Ajanta Arts, was looking for new faces. Sunil Dutt saab was launching newcomers like Leena Chandavarkar and Vinod Khanna. But because I was still in school, my mother (Sharda Rai) didn't want me to join films. Also, we'd have to sign a five-year contract. Usse bandh jaate (We would have been bound). My mother told Nargisji that I'd definitely join the industry but I had to finish schooling first.
How did the debut come about?
I first signed BR Ishara's 'Nai Duniya Naye Log' (1973). It was a film on students featuring Danny Denzongpa and me. Ishara saab wanted Rehana Sultan for 'Zaroorat' (1972), a film that was to be completed in 20 days. But she didn't have the dates. So, I was offered 'Zaroorat', which was a mature role for a teenager like me. The name 'Reena Roy' (her original name was Roopa Rai) was given to me by Ishara saab as there were many Bengalis involved in the film. Then 'Jaise Ko Taisa' (1973) and Sunil Dutt saab's 'Zakhmee' (1975) came my way. In 'Zakhmee', the role was close to who I was – tomboyish and bindaas. I'm still the same. I am straightforward and frank.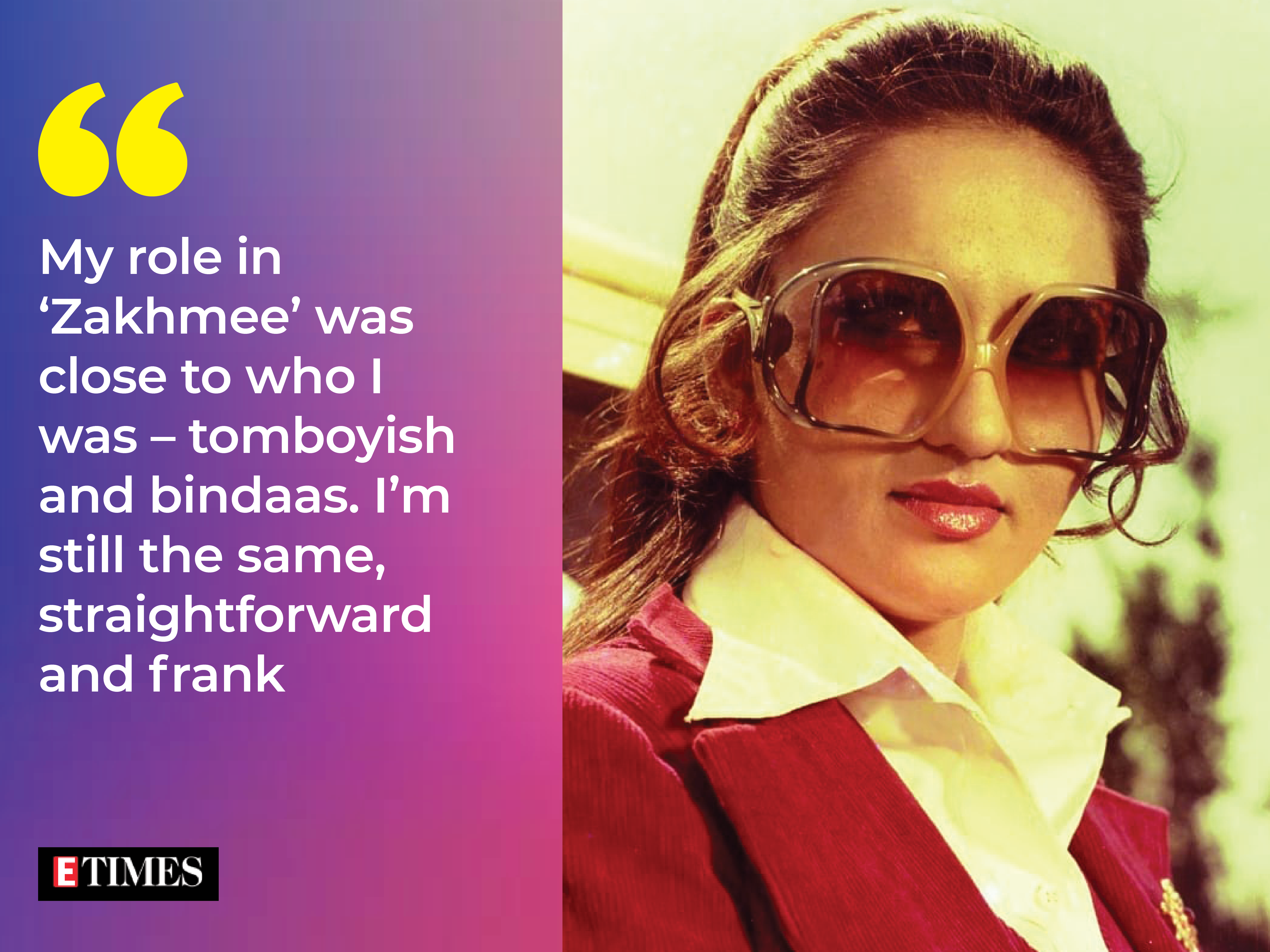 Did you face rejection in the initial years of your career?
By God's grace, I kept on getting roles. Jab uparwale ki marzi hoti hai tab zameen ka patthar bhi chamakne lagta hai (God's will can turn tables for anyone). So many talented and good-looking people come here, but fail to make it. But I had so much energy that my mother enrolled me along with my sisters (Barkha and Anju) in a dance class near our house. She hoped that I'd expend my excessive energy and tire myself to sleep.
Actually, I struggled after entering the industry. I didn't know the ABC of acting. If you talk to those who have worked with me earlier, like Subhash Ghaiji and Danny Denzongpa, they will tell you what a bad actress and dancer I was. I did this film with Subhashji, which had a funny title – 'Andhi Jawani'. I was so clumsy that while twirling around during the dance sequences, I'd make my partner fall! I didn't want to embarrass my family. I wanted to make a name. Hence, I began taking my work seriously. I worked at my roles. I attended Gopi Krishna's dance classes early morning. I took horse riding classes. Being always on the fatter side, I had to diet as well.

'Nagin' (1976) brought you unimagined superstardom…
Actually, 'Nagin' was offered to top actresses. But they didn't want to play a negative role. Even my mother feared that I'd get a bad image as the 'nagin' kills people. But I was bored of running around trees. I wanted to attempt something different. I enjoy challenges. So, I agreed to play the nagin. I am grateful to director Rajkumar Kohliji, dance master Kamalji for training me and Bhanu Athaiyaji for the beautiful costumes. I am a foodie. I was never a skinny girl. I admired Zeenatji's (Aman) figure, something I couldn't ever have. But for Nagin, I had to watch my diet.
How did life change after 'Nagin'?
Hordes of fans would gather outside my house. Policemen with guns would be standing outside for protection. Fans wrote letters in blood. There were marriage proposals aplenty.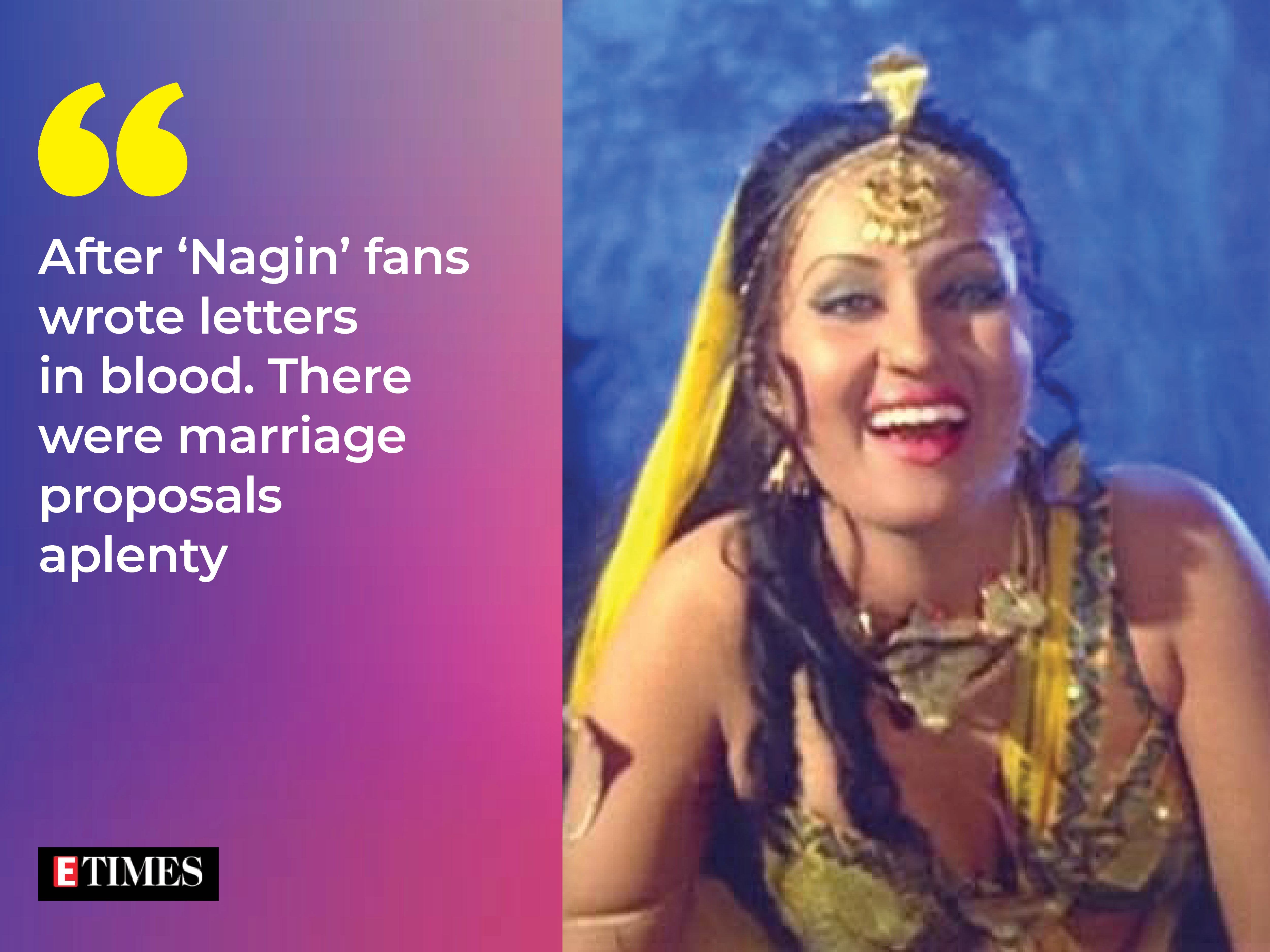 J Om Prakash's 'Apnapan' (1977), 'Aasha' (1980), and 'Arpan' (1983) made you the highest paid actress. Did it invite rivalry?
It was all destiny. In fact, in 'Apnapan' I played a negative role – that of a gold digger. For me, money was not so important. My concern was getting a good subject and playing the role with sincerity and punctuality, though I did three shifts in a day from 7 am to 10 pm. Hemaji (Malini) and Rekhaji were brilliant and worked hard. Maybe, people found something new in me. Having said that, I was never troubled by rivalry. It was fun working with female co-actors – like in 'Naseeb' (1981) with Hemaji, 'Sau Din Saas Ke' (1980) with Asha Parekhji and 'Jaani Dushman' (1979) and more with Rekhaji.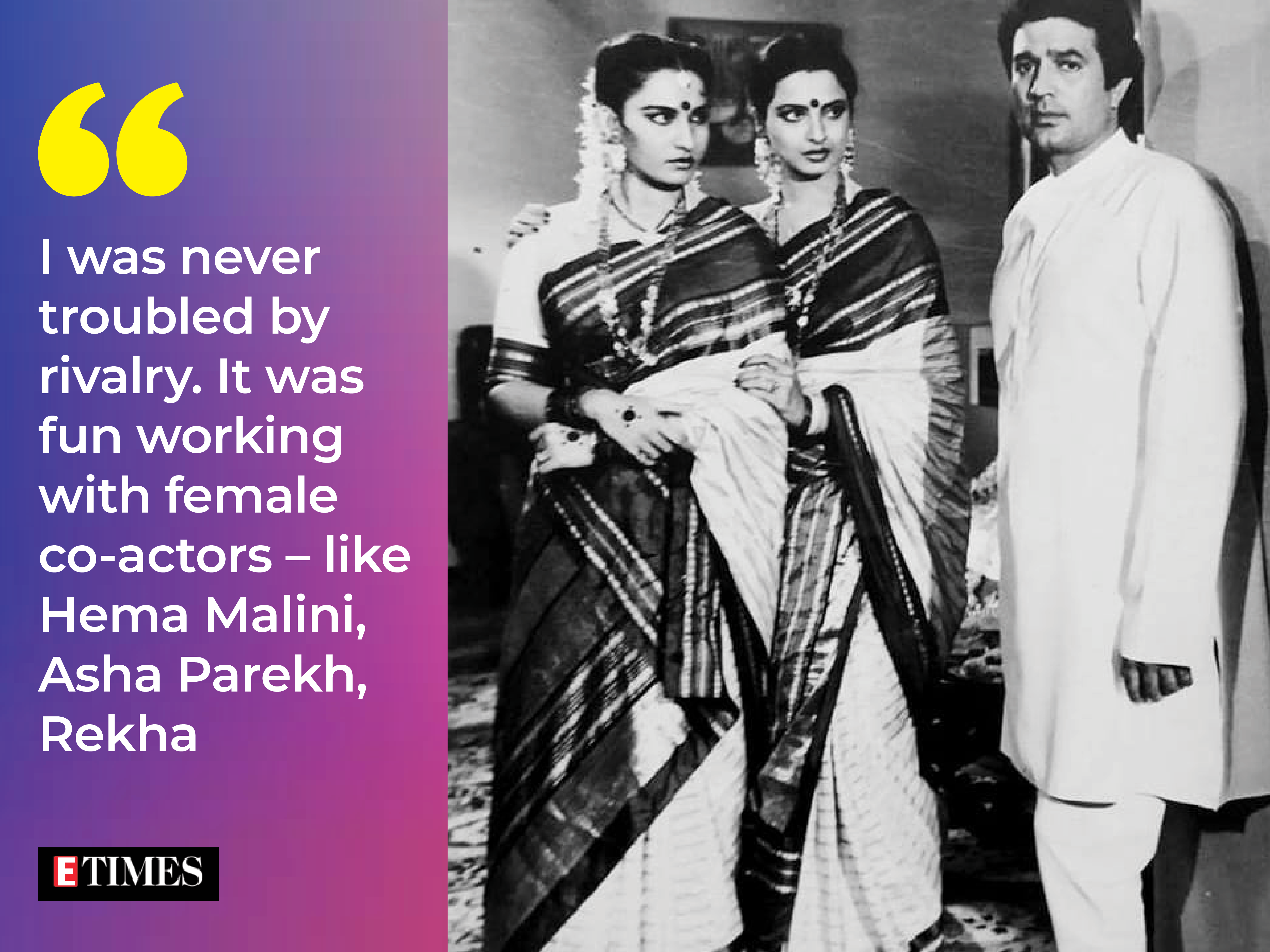 You got along well with your male co-stars as well…
Yes, I got along with all of them. Jeetuji (Jeetendra) and I had around 17 hits. He was a workaholic. He has worked with the best – right from Rajshree to Sridevi and Madhuri Dixit. He was a fitness freak. I have never seen him have roti or chawal ever. No sweets either. He'd have diet food from a small tiffin and tell us, "Yeh khaao. Zindagi bhar mujhe yaad rakhoge." We literally hid our plates from him. I'd ask the hairdresser to fill my plate and bring it quietly in my make-up room. (Laughs) I'd fear woh hamein khaane nahi denge!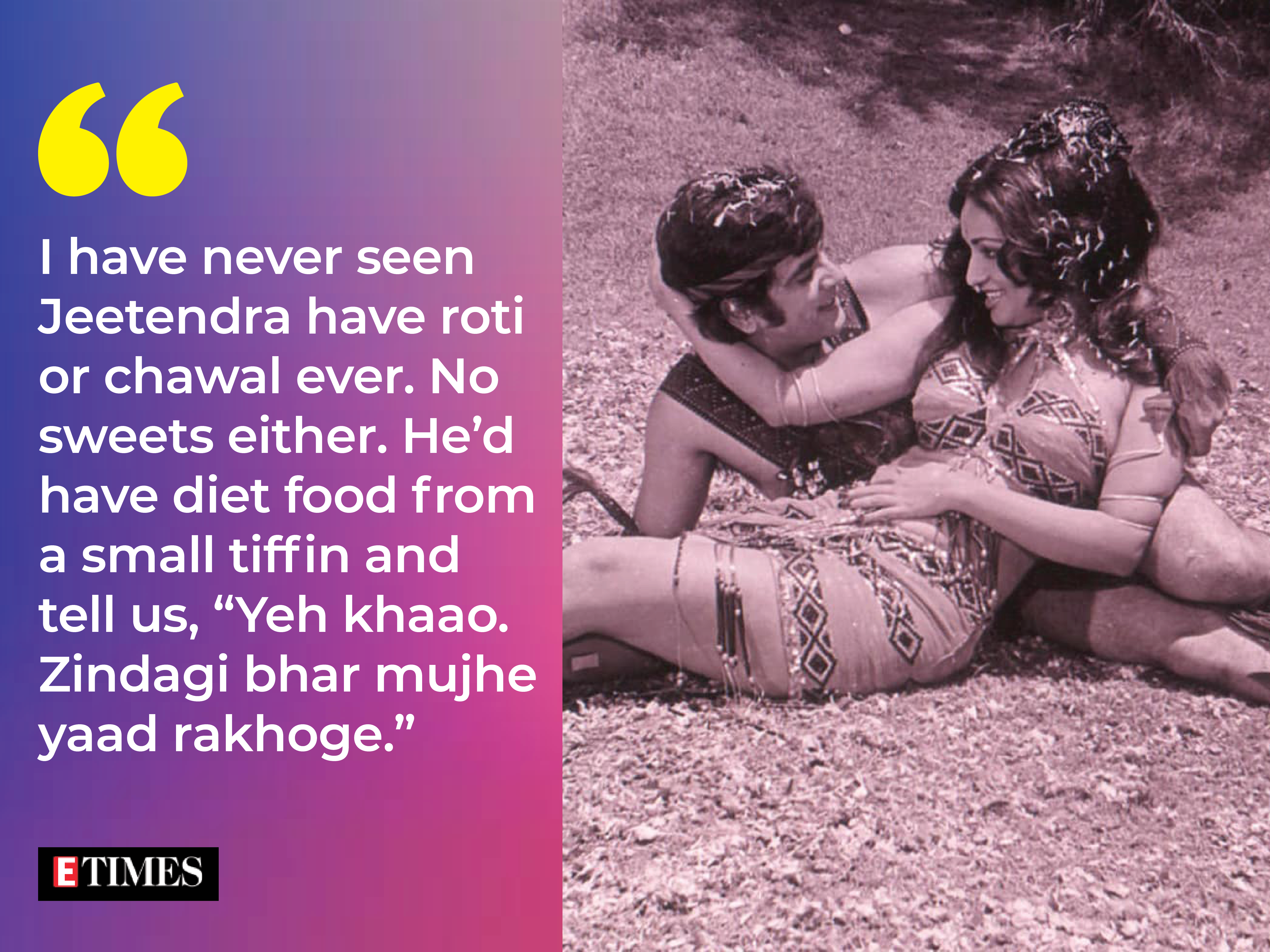 Was Rajesh Khanna an easy co-star?
We did films like 'Dhanwan' (1981) and 'Asha Jyoti' (1984). He was my neighbour in Bandra. We had a family relationship with him. He had great respect for my mother. He'd guide and advise me on the set. A wrong impression about him was created. In actuality, he was extremely sensitive towards his family and friends. He was dildaar (generous), a great host and helped many people.
And Rishi Kapoor?
Rishi Kapoor was talkative and full of energy like me. We'd have mock fights. Like he'd challenge me about doing some hard dance steps. He'd say, 'Tu kar nahi payegi!' That would goad me on to prove myself.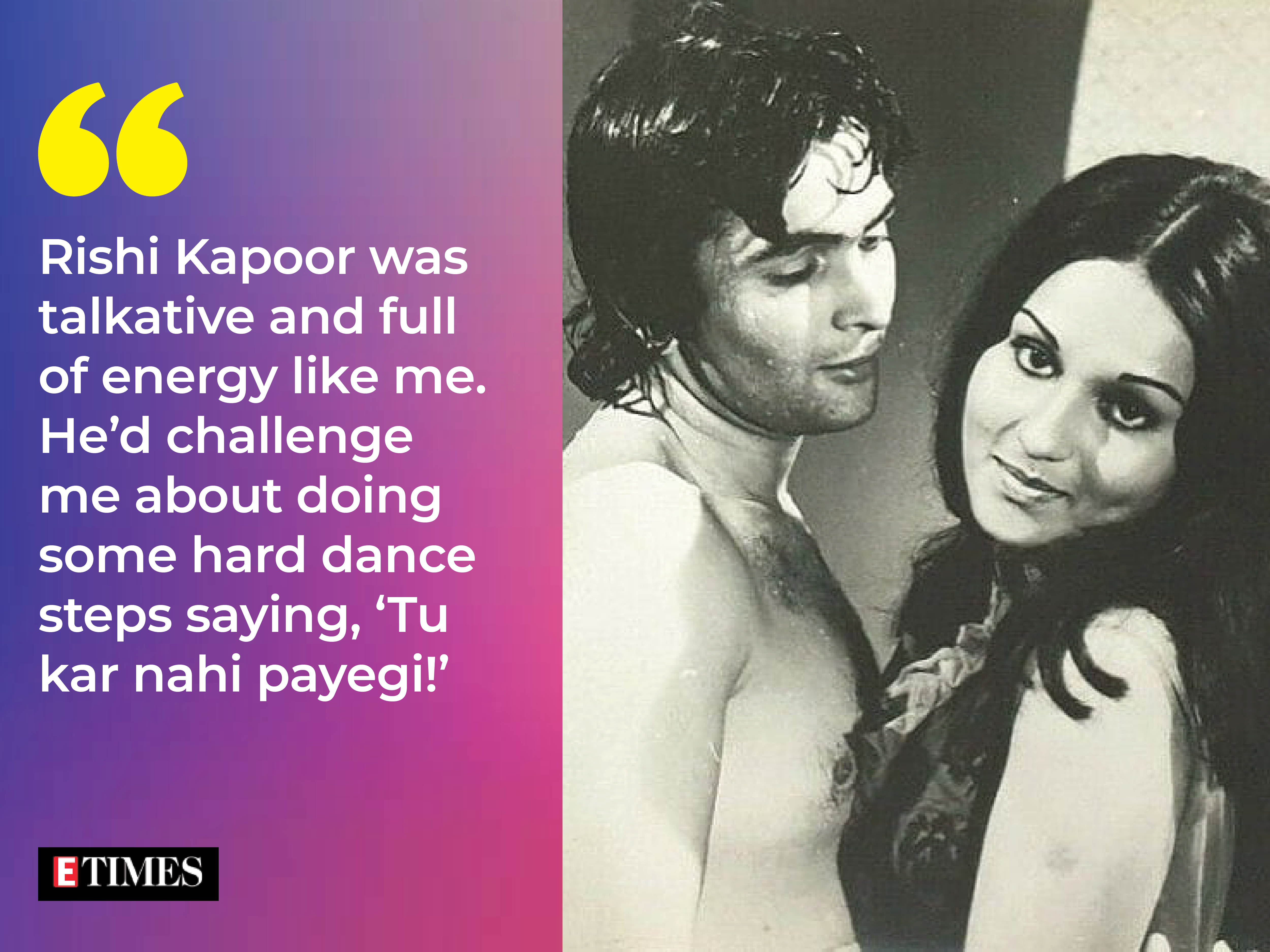 Shatrughan Sinha, with whom you gave superhits like 'Kalicharan' and 'Vishwanath', was said to be a latecomer…
Late toh Rajesh Khanna bhi aate the. Par sab kaam khatam kar ke hi jaate the. (Even Rajesh Khanna would arrive late. But everyone would leave only after finishing work.) They never neglected work.
Shatrughan Sinha has written about you with great regard in his biography Anything But Khamosh…
Even Rishi (Kapoor) wrote highly of me in his autobiography (Khullam Khulla: Rishi Kapoor Uncensored). I thank them all. Aur kya boloon mein? (What else should I say?)
Why were you never paired with Amitabh Bachchan?
After 'Naseeb', I was offered Manmohan Desai's 'Mard' and one more film with Amitji. But I was getting married around that time. I wanted to complete the assignments on hand. I've always shared a good relationship with Amitji and Jayaji (Bachchan).
Your dances in 'Rocky' (1981) and 'Sanam Teri Kasam' (1982) were a rage…
Dance ka shauk tha, izzat ka bhi sawaal tha. (I was fond of dance, it was a question of honour as well) Sunil Dutt saab was launching Sanjay Dutt with 'Rocky'. When I was approached for doing a special appearance in the film, I said please announce my name without hesitation. After all, I shared a long association with the Dutts. 'Sanam Teri Kasam', where I was paired opposite Kamal Haasan, was produced by my sister Barkha.
How would you sum up your sex-appeal?
I guess it was in my simplicity. I was as normal on screen as I was in real life. Sex-appeal can lie in your eyes, in your smile, in the way you talk… You can look sexy in a saree. You don't have to reveal to appear sexy. I preferred less make-up. In 'Bezubaan' (1982), I didn't apply any make-up. It was just lipstick and kajal. But for some films you had to have heavy make-up.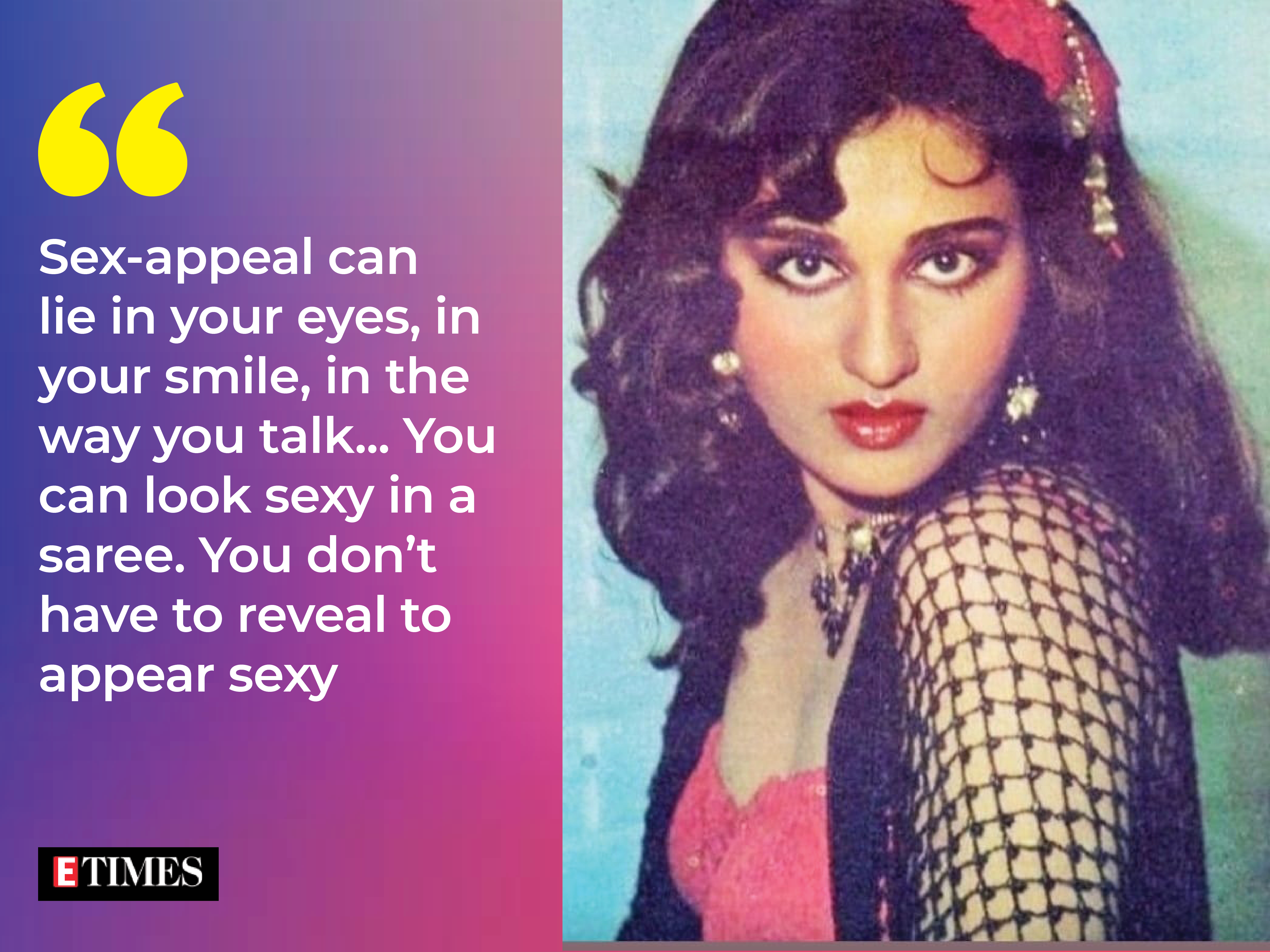 You quit at your peak after marrying Pak cricketer Mohsin Khan in 1983…
I was tired working round the clock from morning to night. My mother told me, 'What's this life? Bahut hogaya. Kitna kamaoge! (It's enough. How much will you earn!)' She was after my life to settle down. She believed it was the right age for me to get married. She wanted me to have a home and a family. She feared I'd remain unmarried and be left alone if I took more time.
Didn't you miss the limelight?
I don't miss the limelight. I am a different kind of a person. I don't live in the past. Kal tha, aaj hai! (Yesterday was, today is!) I got offers even after marriage. I did J Om Prakash's 'Aadmi Khilona Hai' (1993), 'Ajay' (1996) and 'Gair' (1999) and JP Dutta's 'Ghulami' (1985) and 'Refugee' (2000). I featured in television serials, such as 'Eena Meena Deeka', produced by my sister 'Barkha' (Roy). I still get offers for films. But there's no point doing roles where you just have to stand and do aarti.
Did you enjoy motherhood?
I am still enjoying it. I am not a conservative mother. But I am protective of Sanam (Khan). She's a shy girl. She's getting film offers but we can't force kids to choose a career. My mother never stopped me from what I wanted to do. Sanam can also do what she likes. Her happiness comes first for me. In life, I'm answerable only to my daughter and no one else.
You seem to hold your ex-husband, Mohsin Khan, in great respect…
He's the father of my daughter. He's in touch with her. They share a close father-daughter bond. He's settled well in life. I pray that God keeps him healthy and happy.
Didn't you ever want to remarry?
I never thought of remarriage. When you're focussed on your child, you can't think of remarriage.
Don't you feel lonely?
I was lonely even while I was working and doing three shifts. While driving from one set to another, during that half an hour drive alone in the car, I'd feel lonesome. Baby, life is essentially lonely! Even top industrialists can be lonely, though they may say they have no time to feel so. The truth is that everyone is alone. We have to keep ourselves occupied.
How do you keep yourself occupied?

Looking after a home and a family is a full-time job. I enjoy cooking. Initially, it was tough. But I have picked it up. I can whip up dishes for my friends. My close friend, Mumtazji, is an excellent cook too. I like to make people happy. When friends share their problems with me, I cheer them up. That gives me joy.
Someone who inspired so many screen romances, what does love mean to you?
Love is never permanent. Hathoda maar kar kabhi pyaar nahi hota (Love cannot be forced). It means different things at different phases. When you're young, love is crazy. In middle age, you become practical. And towards the later years you realise you only have to take care of yourself and of the people, who remained with you – a small bunch of loved ones, with whom you can sit, enjoy and laugh it out.
How close is the song 'Sheesha ho ya dil ho…' to your life?
It's close to the whole world. Sab ka dil kai baar baar tootta hai, phir judta hai, phir tootta hai… (Everyone's heart breaks, then heals, then breaks again) given the experiences that come your way. Like my heart broke when I lost my mother. You never imagine that you'll ever lose your mother. But you do and feel sad. Life's like that.
What's the real Reena Roy like?
I am a strong woman. In life, you have to be brave. Sensitive I am, or else you cannot be an actor. But in real life, I don't disclose my emotions to anyone, even to my family. Even as a child if I hurt myself, I'd never cry in front of others. Kuch bhi ho, sehan karlo, bardasht karlo, aansoo nahin laana hai (Come what may, bear it, tolerate it, don't shed a tear) was what I told myself. I don't reveal my tears to anyone. Honestly, I don't think anyone in my life can claim to have seen me crying. Not even my family. Not even my daughter.
What advice do you have for women?
Love yourself first. People will come and go. Sulking about the past will not help. Look ahead. Stay mazboot (strong). Only then can you be an inspiration for others. Jale par namak lagaane wale bahut hote hain (There are many who rub salt on your wounds). But you should not be a weakling. Har modh par muqabla hai. Jo gham mila ho… kisi se bhi mila ho, forget and move on. (There is competition at every turn. Whatever pain you got… whoever gave it to you, forget and move on.) Women can move mountains. When women are suppressed and abused, it upsets me. Women should be independent and keep their morale high.
A dream you wish to fullfil…
It was heartbreaking to hear veteran lyricist Santosh Anand (of 'Pyar ka nagma hai' fame from 'Shor') speak of his sad condition on a TV reality show. I've always been drawn towards social service, something which I've been doing quietly. Though I have never spoken about it. It would be petty to do so.
It would be great if the government could sanction land for an old age home for people of both the Hindi and Marathi industries – a place where actors, writers, technicians, stuntmen, singers… even journalists… who are facing tough times and battling old age can be cared for and lead a life of dignity. With the help of actors like Akshay Kumar, Salman Khan, Ajay Devgn… and of course Sonu Sood, who have been doing so much charity, I'd like to be involved in such a welfare project. This could prevent people from having a sad end. It's been my dream to build such a home for the elderly since childhood.

Nargisji did a lot of work for spastic children. I'd request for an early pack-up to attend her events. I also did Sunil Dutt saab's 'Dard Ka Rishta' (1982) along with Smita Patil and others, for which we didn't take remuneration. The proceeds of the film were donated for the benefit of cancer patients.

Do you fear old age?
Not at all. I take it positively. I'm not obsessed with my looks either. I'm not interested in Botox. Kabhi sochti hoon karna chahiye. Phir sochti hoon kya fayda. (At times I think I should do it. Then I think what's the use.) Natural is natural. After all, it's no longer the time to dance around trees and across fields and valleys. (Laughs) Trees ko hilla hilla kar naacha hai hamne!

Any regrets in life?
Whatever is destined will come your way. (Smiles) I believe in forgive, forget… and 'forgotten'. There's no need to dig graves. This is my formula in life. God gifted me a successful career. I was blessed with a child, something I always wanted. Mere haath paer salaamat hai. (I am blessed with a healthy body.) I have a lovely family. I'm thankful for all that came and went in my life. Nashukri nahi banna chahti. (I don't want to be ungrateful.) I am thankful to the universe for everything.