Snow in high Himalayas, Delhi temp falls to 19°C
2 min read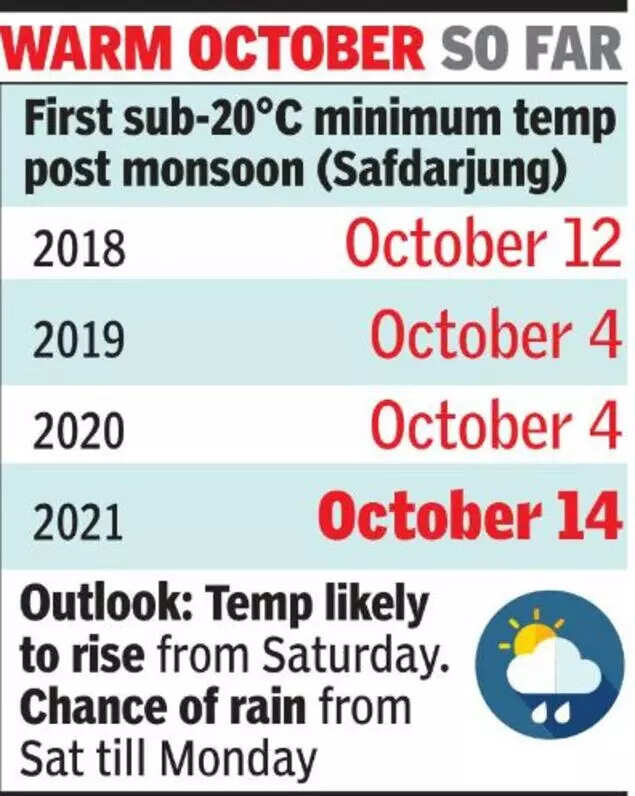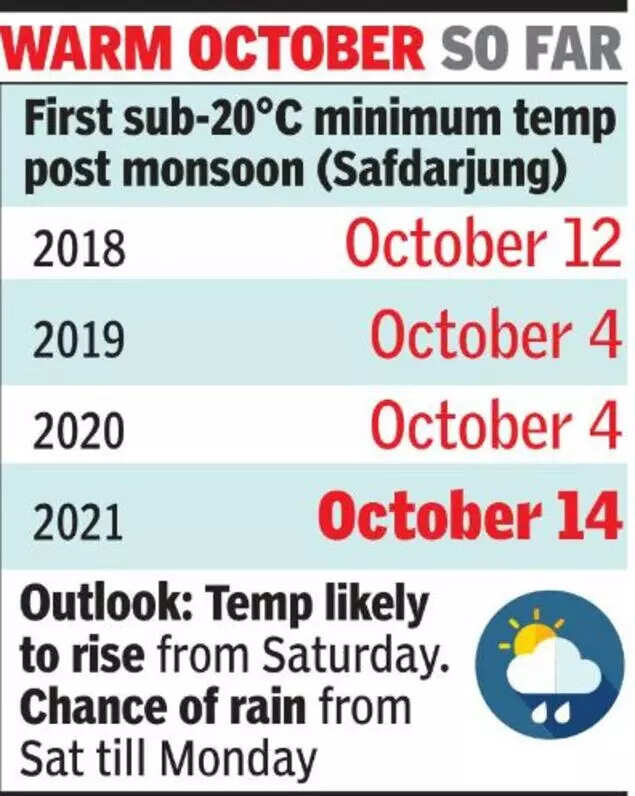 NEW DELHI: Delhiites have started getting the pre-winter feel with a nip appearing in the late-night and early-morning air. The night temperature on Thursday dropped below 20 degrees Celsius for the first time this season, with the mercury falling to 19 degrees at Safdarjung.
The upper reaches of Jammu and Kashmir and Himachal Pradesh received snow on Wednesday, in the wake of which cool northwesterly winds led to a drop in temperatures in the northern plains. The wind direction is expected to change on Friday or Saturday, with temperatures expected to rise.
Some rain is also expected from Saturday till Monday under the influence of a western disturbance.
A minimum temperature of 19 degrees C is considered normal for this time of the year. The past three years had seen the mercury drop below 20 degrees C earlier than this year, which has seen a relatively warm October so far.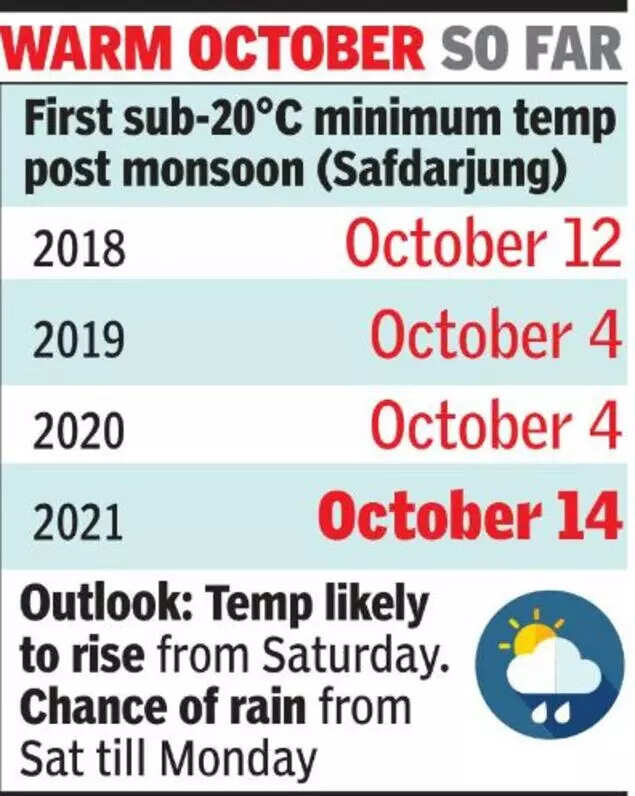 Under the influence of the northwesterlies, the maximum temperature dropped to 33.9 degrees C from 36.7 degrees two days back.
"Both maximum and minimum temperatures witnessed a decline on Thursday. The city has been mostly recording maximum and minimum temperatures above normal in October so far. Due to clear sky and northwesterly winds, the minimum temperature dropped on Thursday," a met official said.
India Meteorological Department (IMD) has forecast that the minimum temperature is likely to remain around 19 degrees Celsius on Friday but could rise from Saturday. The met department predicted very light showers on October 16 and light to moderate rain on October 17 under the influence of a western disturbance. Light rain is expected on October 18 as well.
Mahesh Palawat of Skymet Weather, a private weather forecasting agency, said, "Northwesterly winds are predicted to change to easterly on Friday or Saturday. Besides, patchy rain and partly cloud cover are likely on October 17 and 18 and it may cause a rise in minimum temperature."
According to IMD's forecast, the minimum temperature is likely to hover around 21 degrees Celsius on October 16 and 17 and may touch 20 degrees Celsius on October 18.
"After the rain activity is over, the temperature may again witness a slight dip. There are chances that the minimum temperature may drop to 19 degrees Celsius on October 19 and 20," said a met official. He added that a steeper drop in the minimum temperature is likely in the last week of October or first week of November.