Sonalee Kulkarni on 'Chhatrapati Tararani'
6 min read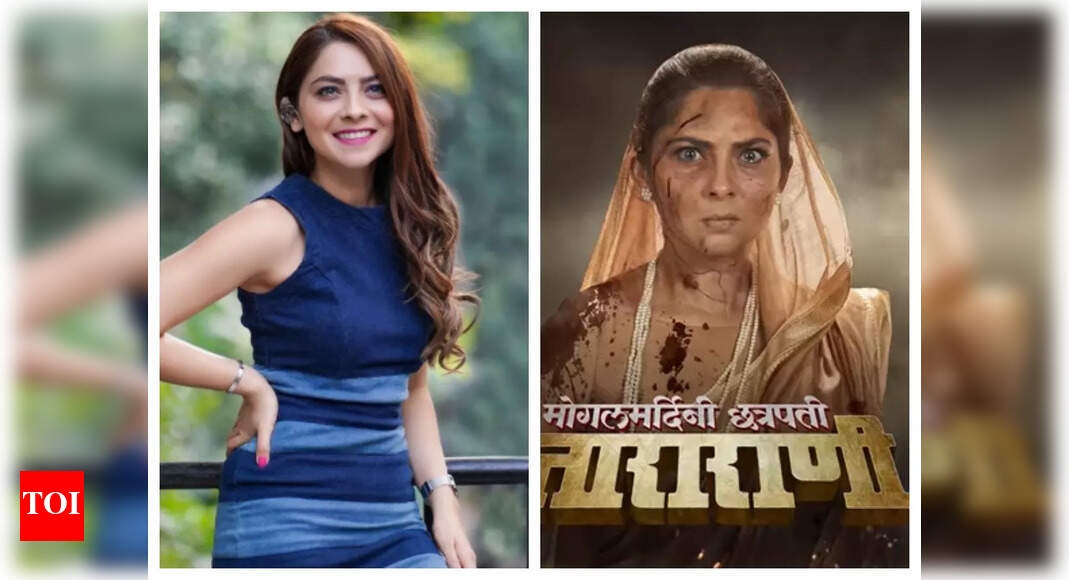 Sonalee Kulkarni who was last seen in the historical film 'Hirkani', is all set to take the audience on the journey of Moghul Mardini Chhatrapati Tararani.
Rahul Jadhav's directorial 'Chhatrapati Tararani' is based on one of the greatest epics of valour of the warrior queen Chhatrapati Tararani. ETimes caught up with Marathi cinema's 'Apsara' Sonalee Kulkarni for an exclusive interview where she spilled the beans on her upcoming dream project 'Chhatrapati Tararani', her journey, and much more.
How was the response to the announcement of your Marathi-Hollywood film Moghulmardini Chhatrapati Tararani?
The response has been superb. It's crazy.
How are you preparing for the role?


Well, I have started training for the basics of the war sequences in the Chhatrapati Shivaji Maharaj era. I'm now learning horse riding, sword fighting and laathi-kaathi. Apart from that, there's the body language and spoken language that I need to inculcate. Hirkani (the film) was my first historical film. This one is going to be a step ahead of that. I'll be playing a character from a royal family so there's a lot of responsibility.
What references did you rely on to get into the character?


Fortunately, there are a lot of references available from that era. But again, history is one person's perspective. You can't really have 100% factual evidence. So basically the reference for this was that the script was coming from Dr. Jaysingh Pawar's book based on Tararani which is titled Moghulmardini Chhatrapati Tararani; from where we have taken the title as well as his understanding of Chhatrapati Tararani.
What role did Akshay Bardapurkar, Founder of Planet Marathi play in making this film happen?


He has played a major part. Initially, Rahul and I have been discussing this. For the last 2-3 years we have been on it. We have tried to build a team together. But taking it globally, making it a hundred notches higher is absolutely Akshay's vision. You know, I don't think anybody in Marathi cinema has thought of taking any film globally in terms of making. This film is not going to cater to only the Marathi audience but to anyone across the globe who is interested in any kind of history.
Yesterday, I was talking to my in-laws who are based in the UK. I was telling them that we're now shooting this film in the UK and we have this huge studio from the UK and a Hollywood based studio who are interested in co-producing the film, and we're shooting in Hollywood or for that matter in the UK. So the entire VFX setup will be built up there. Only 10-15% portions of the film will be shot in real locations in Maharashtra. We will be shooting the film in Marathi and English simultaneously. Hence it becomes an international co-production.
The 'Apsara' song from Natrang changed everything for you. Tell us about your journey.


'Apsara' was the biggest milestone of my career. I always wanted to become an actress but I didn't know what exactly I'd be able to do. Big screen was always a dream. Whether it will be Marathi, Hindi or Punjabi I had no clue. But since childhood I worked towards becoming an actress. I'd say Maa ke pet se dancing seekh kar aayi hoon. When my mom was four months pregnant with me, which was the last time she performed on the stage. And that was my first time on the stage. Since then I have been living on the stage.
My mother used to dance as a hobby. And she is a Punjabi. It's in their blood. She comes from an army background and they give platforms for them to show their talent and courage. So my mom used to perform in army functions and all.
Have you retained any Punjabi traits in your personality?


Over the last few years since I've been working in the Marathi film industry, I have become more Marathi, thanks to all the love that I have garnered. But otherwise, I was raised equally as a Marathi and Punjabi child. And I studied in an Army school so it was a more cosmopolitan atmosphere. In fact, I didn't study Marathi in school. I could not write, speak or read Marathi. So, when I did my first Marathi film, I had a huge challenge to learn the language and correct pronunciations.
When will we see you in a Hindi film?


I am not actively doing anything to get into Hindi cinema. I have been focusing especially on Marathi films for the last five years. Because I think the way Marathi cinema has grown is amazing. And since OTT has arrived, it's no longer about languages you know. People watch all kinds of cinema. They don't care much about language. Content-wise I really enjoy doing Marathi cinema but if there's a good Hindi film coming my way, I will look forward to it.
I'm sure people must be offering you films. Are you choosy about what type of cinema you want to be associated with?


Yes, I have a lot of restrictions and tick boxes. I'm not really comfortable doing unnecessary bold stuff. I don't like being everywhere every time. I like keeping my exclusivity. I don't mind playing a small part in a Hindi film but it has to be substantial enough to be remembered.
You're based in Dubai. How do you manage your time and work?


I won't say I'm entirely based out of Dubai yet. I recently got married. In fact not even fully married. Our plans of doing the rituals have gone for a toss. We were supposed to do a UK wedding in July but because of the lockdown, it couldn't happen. So, we decided to only do a registration ceremony in Dubai as we didn't want to delay getting official. I'm juggling between three countries right now. We are in Dubai, my parents are in India and my in-laws are based in the UK. From my next film to my life, everything is going global.
Did you shoot during the lockdown?

Yes. It was pretty challenging. In fact, the first film I shot after the lockdown was between the first wave and the second wave. And I shot a film in the UK and we were in London in November-December 2020. Till then the UK had managed to keep the numbers low. It was restricted and controlled in a bio-bubble, and regular testing. But I was happy to be facing the camera, being on a film set, doing my lines, all that was very overwhelming. But also very restricting. I was travelling back and forth between the UK and India as I was doing a project here. It was crazy but worth it.

But we were lucky enough to complete our filming in the UK and return to India before the second wave broke in the UK. It was horrible there. Actually, finished three films and one web show during the pandemic. Once you're an actor, you die an actor. Being in front of the camera is the biggest pleasure you can ever have.

What difference do you see in the Hindi and Marathi film industry? Something that the Marathi industry should adapt to for it to propel higher.


Marathi cinema is based out of Mumbai. And Mumbai is also the hub for Bollywood. So, Marathi cinema gets this direct competition from Hindi cinema and Marathi films get overshadowed. You know what happens in South India. They don't have competition from Bollywood. They have their own territory and states backing them up. Whereas in Maharashtra we lack it. We lack a huge loyal audience as well. Otherwise, Marathi films are made on a limited budget with good scripts, cast and crew. But because of Bollywood dominance Marathi cinema doesn't reach a wider audience. Hence, the revenues are low and in turn, the budgets are low, to begin with. It's kind of a vicious circle that we're trapped in.