Union defence ministry inks Rs 21,000 crore deal with Airbus for 56 IAF planes
2 min read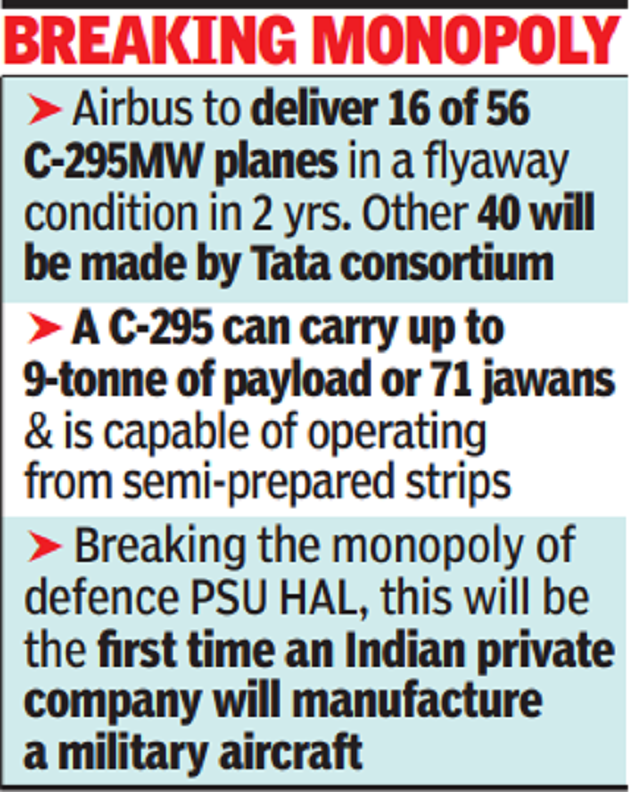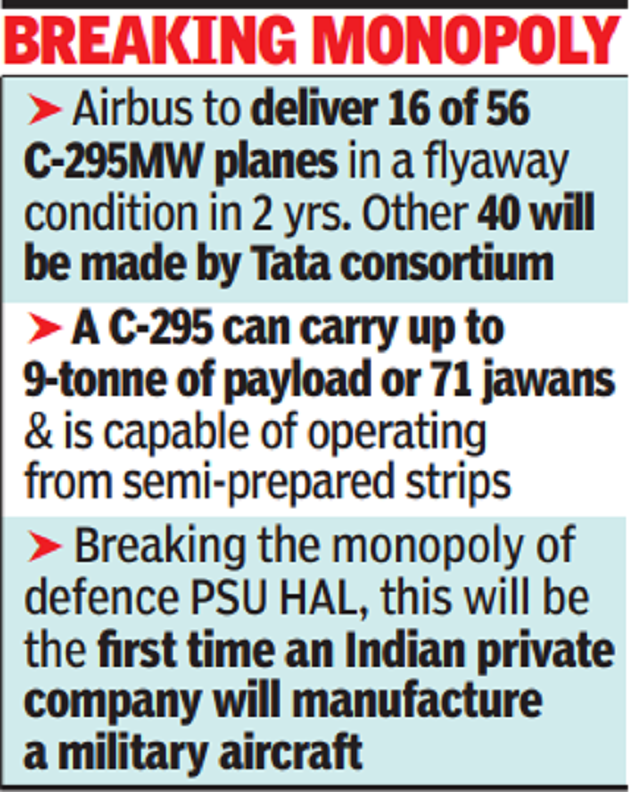 NEW DELHI: The Union defence ministry on Friday inked the over Rs 21,000 crore (around $3 billion) contract with Airbus Defence and Space (Spain) to acquire 56 C-295 medium transport aircraft to replace the old Avro planes of the IAF.
Airbus will deliver 16 of the twin-turboprop C-295MW aircraft in a flyaway condition within two years, with the remaining 40 being manufactured in India by the Tata Consortium under a joint industrial partnership within 10 years.
After the delivery of the 56 aircraft, the subsequent planes manufactured here can be exported to countries cleared by the Indian government, said MoD officials.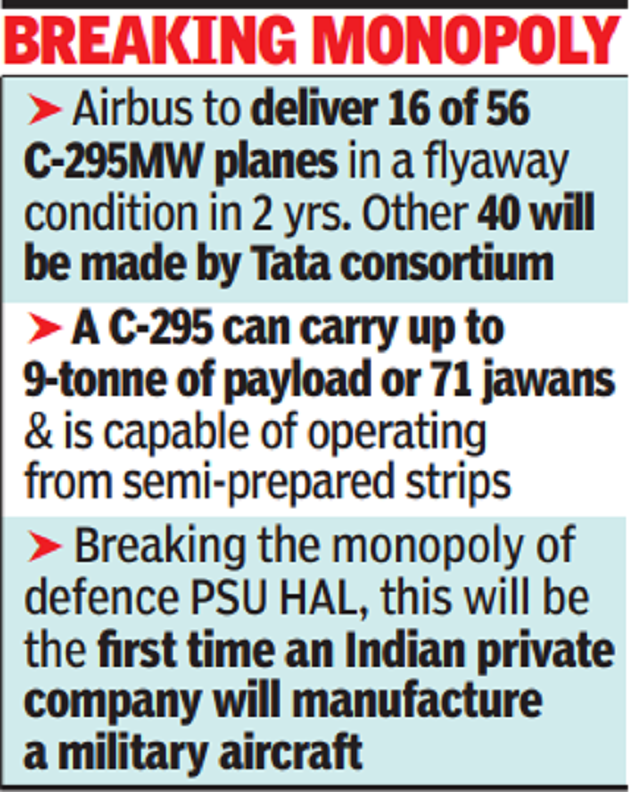 Airbus executive vice-president (military aircraft) Jean-Brice Dumont, in turn, said the C-295 certainly had "export potential" but his company's "first priority" is to execute the 56-aircraft project. "Our priority is to unleash the potential of the aerospace industry in India for India. The project will create 15,000 skilled direct jobs and 10,000 indirect jobs over the next 10 years," he said.
The Airbus-Tata project, which was hanging fire for around a decade, was cleared by the Cabinet Committee on Security on September 8. Breaking the virtual monopoly of defence PSU Hindustan Aeronautics in the field, this will be the first time an Indian private sector company will manufacture a military aircraft, as reported by TOI earlier.
Tata Group chairman emeritus Ratan Tata said the joint project was "a great step forward in the opening up of aviation and avionics projects" in India. "It envisages total manufacturing of the aircraft in India. It will create a domestic supply chain capability to international standards, which has never been undertaken before," he added.
The highly-versatile C-295 aircraft, which can carry up to 9-tonne of payload or 71 soldiers, is capable of operating from semi-prepared strips and has a rear ramp door for quick-reaction and para-dropping of troops and cargo.
"The aircraft will give a major boost to IAF's tactical airlift capability, especially in the northern and north-eastern sector with China as well as the Andaman & Nicobar Islands," said a MoD official.
Tata Advanced Systems CEO Sukaran Singh said, "It's a momentous day for the Tatas and a milestone for the Indian military manufacturing ecosystem. This endeavour demonstrates Tata Advanced Systems' capabilities as a defence manufacturer to build globally competitive complex platforms in India."