UP cop booked for graft 2 weeks after getting medal
2 min read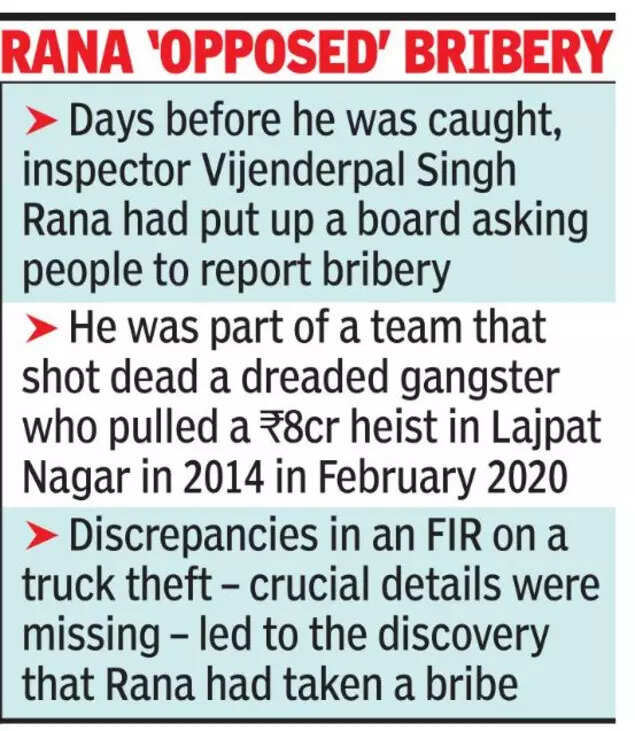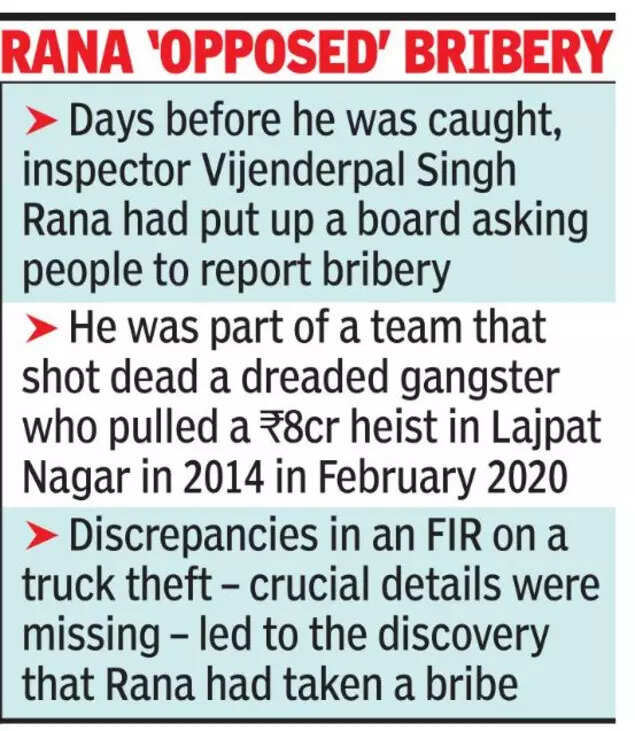 MEERUT: On Independence Day, inspector Vijenderpal Singh Rana turned up in his smartest uniform to receive UP Police's gallantry medal. Days later, on Wednesday, he was booked in his own thana, where he is posted as the SHO, for allegedly taking a bribe of Rs 1 lakh to let off a man with a stolen truck.
A decorated officer, inspector Vijenderpal Rana was part of the police team — led by the then SP Ajay Sahni — that had shot dead Shiv Shakti Naidu, a dreaded gangster who had pulled off a sensational Rs 8 crore heist in Delhi's Lajpat Nagar in 2014. Kingpin of the notorious Naidu gang, he was killed on February 18 last year during an encounter. Sahni and Vijenderpal Rana were awarded the Police Gallantry Medal for the encounter on August 15.
Rana declared his thana was free from graft
Vijenderpal Rana's downhill slide from being a celebrated cop to an "absconding accused" was quick; it took him just 15 days. SP Vineet Bhatnagar said, "The inspector is wanted in the bribery case. He hasn't returned yet." An FIR has been registered at Meerut's Sadar police station.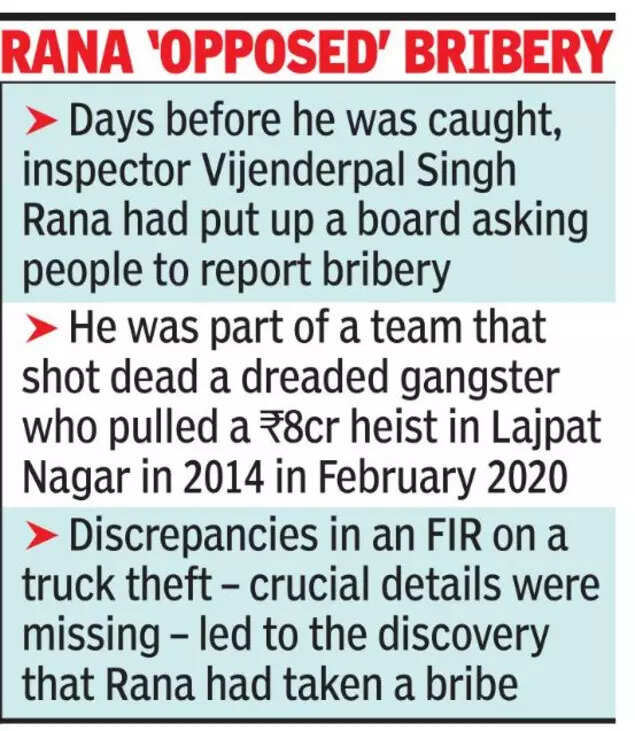 Gaurav Rana, acting SHO of the police station, told TOI that his predecessor and head constable Manmohan Singh have been booked under Prevention of Corruption Act, 1988. "We arrested the constable redhanded as he was taking a Rs 50,000 bribe from the scrap dealer with the truck. Rana had also taken a bribe of around Rs 1 lakh. The FIR was filed on orders of the SSP," the SHO said.
Vijenderpal Rana had declared his police station "corruption free" a few days ago. He had even put up a board outside the thana asking visitors to report any incident of bribery. According to sources, the graft came to light when SP Bhatnagar noticed discrepancies in an FIR registered at Sadar police station regarding the theft of a truck. Important points were missing from it. Further investigation led the IPS officer to the alleged corruption case.