Vaccination drive pace to be set by 2nd dose now, likely to be slower as recipients wait out gap period
2 min read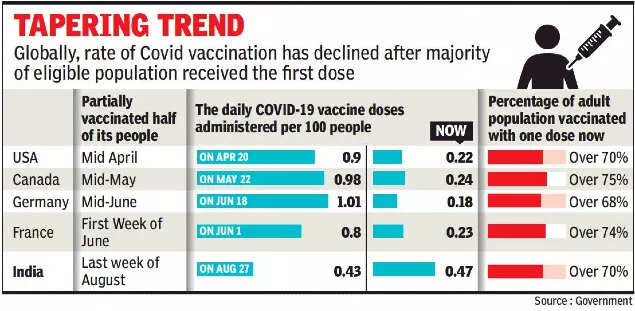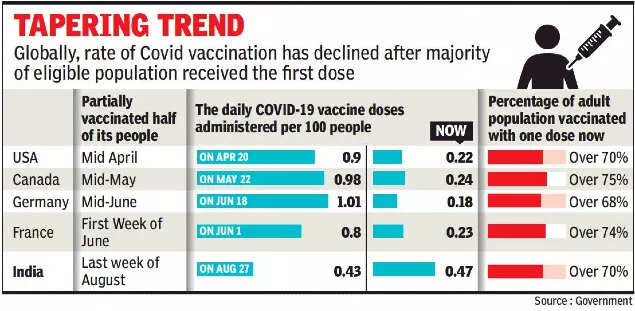 NEW DELHI: The pace of India's Covid vaccination drive will be now primarily driven by administration of second doses, which is likely to be slower as recipients will have to follow the dosage gap between two shots of the vaccine.
The coverage is expected to rise as per the speed observed since 12-16 weeks ago, government estimates show.
Majority of the vaccination — around 88% of the total 95.8 crore doses administered in the country so far — is by Covishield, which is given in two doses with a gap of 12-16 weeks. This is likely to have a crucial bearing on the pace of vaccination here on.
So far, the Covid immunisation drive was aimed at initiating maximum number of vaccinations so that all of the eligible adult population gets covered. The pace of vaccination was also led by coverage of first dose of vaccines.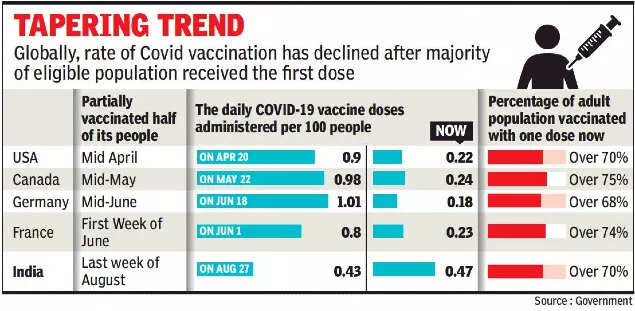 Now, with over 73% of the eligible population vaccinated with at least the first dose, the average weekly ratio of first dose given as proportion to second dose is steadily declining and nearing almost one. "This implies that almost same number of first and second doses are being administered every day in the country. So what is decreasing is the rate of growth of people taking the first dose, which is natural since more than 70% people are already covered. On the other hand, the number of people taking the second dose is constantly rising. However, it will rise as per the speed observed 12-16 weeks back because of the dosage gap," an official said.
During August, the weekly average of first doses given per day varied in the range of 36.6 lakh to 48.4 lakh, whereas that for second dose was 11.9 lakh to 19 lakh. As the pace of vaccination improved during September, the weekly average of first dose per day during first three weeks of September varied between 44.1 lakh to 58.3 lakh, whereas the same for second dose was 21.6 lakh to 37.2 lakh.
However, the proportion of first dose and second doses administered during September 25-October 1 and October 2-6 were just about same. During September 25-October 1, an average of 38.7 lakh first doses were given daily, slightly higher than 30.5 lakh of second doses. The ratio decreased further during October 2-6 as an average of 25.3 lakh first doses were given daily, whereas an average of 22.3 lakh second doses a day.
The government maintains that globally, the pace of vaccination has declined with increasing coverage of first dose of vaccine.
"India has vaccinated more than 70% of its eligible population. It is natural that after such a huge milestone, the rate of growth in new people taking the first dose would not remain as high as before," the official said.