Youth from diaspora has key role in making India $ 10-trillion economy: MEA on Pravasi Bharatiya Divas
2 min read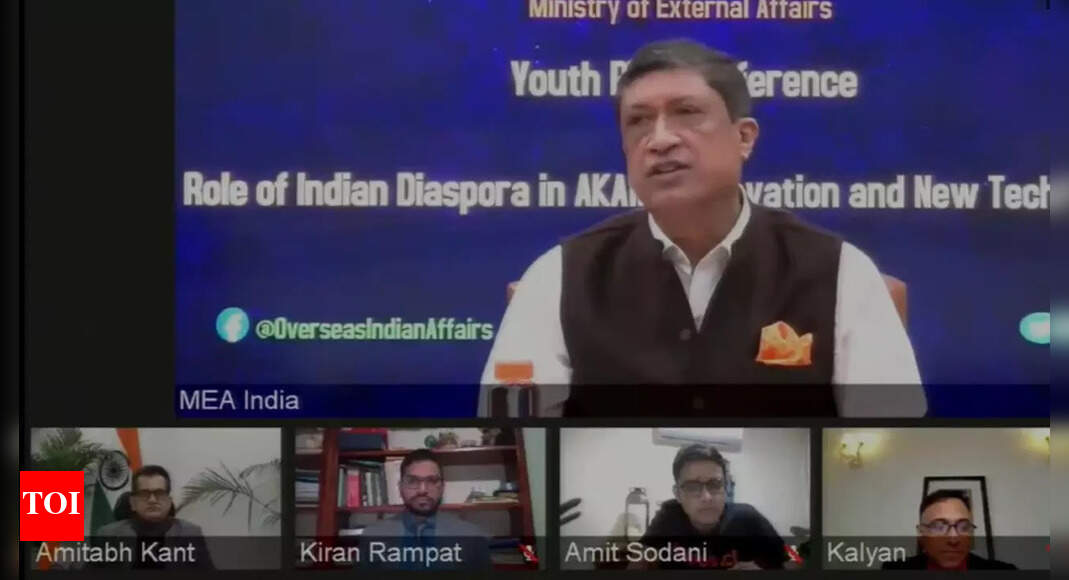 NEW DELHI: Reminding the Indian diaspora of global leaders like Alphabet chief executive officer (CEO) Sundar Pichai and Twitter's Parag Agrawal on the occasion of Pravasi Bharatiya Divas on Sunday, the ministry of external affairs (MEA) said that moving on, youth will have a key role to play, as India looks forward to Vision 2047 when the country will celebrate its centenary Independence Day.
Twenty-five years from now, we will be celebrating our centenary Independence Day and preparations are underway for Vision 2047, the MEA said. "As per World Bank estimates, India will be an economy with a GDP of $ 10 trillion. Youth will have a key role to play in it."
Minister of state, MEA, V Muraleedharan said from Sundar Pichai and Parag Agrawal to several others, "we have proof of Indian leadership on the global stage". "Indian youth and the diaspora are making great strides in finding innovative solutions. Working with the youth is an investment," said MoS Muraleedharan.
Extending greetings to the Indian diaspora on Pravasi Bharatiya Divas, External affairs minister S Jaishankar said that their achievements are a source of pride for us.
Greetings to the Indian Diaspora on Pravasi Bharatiya Diwas. Your achievements are a source of pride for us. And ou… https://t.co/pEsTxCfk94

— Dr. S. Jaishankar (@DrSJaishankar) 1641701048000
Before him, Prime Minister Narendra Modi also extended his best wishes to the Indian diaspora on the Pravasi Bharatiya Divas, saying that they have distinguished themselves all over the world and have excelled in different spheres.
Greetings to everyone, especially the Indian diaspora on Pravasi Bharatiya Diwas. Our diaspora has distinguished it… https://t.co/fYPz4tOngz

— Narendra Modi (@narendramodi) 1641698188000
Meanwhile, Vice President M Venkaiah Naidu urged non-resident Indians (NRI) to redouble their efforts to contribute towards the growth of the country. Extending greetings on the Pravasi Bharatiya Diwas, he also asked them to continue to act as cultural ambassadors of India.
On #PravasiBharatiyaDivas,I urge our NRI brothers & sisters to redouble their efforts in contributing for the growt… https://t.co/hfpQtwoO9P

— Vice President of India (@VPSecretariat) 1641699445000
NITI Aayog CEO Amitabh Kant talked about the India's unprecedented technology lead.
"In last few years, India witnessed an unprecedented level of technology lead. We're now the third largest start-up ecosystem in the world. Youth from the diaspora has a massive role to play; potential for India 2.0 comes from tech innovation by youth," said NITI Aayog CEO Kant.
The Pravasi Bharatiya Diwas is celebrated every year to sustain and nurture the symbiotic relationship between India and its diverse diaspora, and laud their contributions.
According to the MEA, January 9 was chosen to celebrate this occasion, as on this day in 1915, Mahatma Gandhi returned to India from South Africa, after which he led the country's freedom struggle.